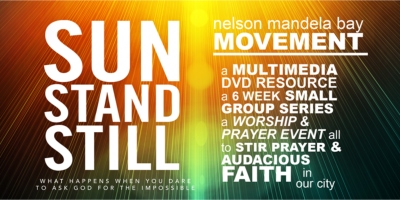 [notice]Gareth Hogg, media and communication liaison at Harvest Christian Church Port Elizabeth writes about an exciting, new, citywide worship and prayer event intended to stir audacious faith.[/notice]
On Saturday, April 14, at 7pm, Harvest Christian Church will be hosting a SUN STAND STILL multimedia Worship & Prayer Event to stir prayer and audacious faith in the Joshua Generation of our city.
This event will also launch a six week Small Group series based on a DVD tool, which we have created from the free resources downloaded from the www.sunstandstill.org website. We would like to give a free copy of this DVD tool to as many church leadership teams as possible in the hope that they would prayerfully consider partnering and/or participating in this initiative.
Now that I have promoted it, please allow me to share the heart behind this initiative…
Prayer and fasting
In October last year, our church had the privilege of hosting, for the 7th year in a row, Willow Creek's Global Leadership Summit. While it was clear that the theme for last year was focused on creativity and the 'new' thing God wants to do in our generation, the main takeaway for me, without a doubt, was prayer and fasting.
As we kicked off 2012 there was a real sense in my heart that we as a ministry needed to be seeking and trusting God more. I also really sensed that God is stirring something in the Joshua Generation of our church with the launch of our new youth ministry, encouraging testimonies from schools and by God confirming His Word from the book of Joshua many times over.
One of the key scriptures for our young adults ministry has been Joshua 1:9 where God commissions Joshua to take hold of the Promised Land, saying; "Be bold and courageous. Do not be frightened, and do not be dismayed, for the LORD your God is with you wherever you GO."
This parallels so appropriately with the Great Commission; all authority in heaven and on earth has been given to Jesus, who by His Holy Spirit dwells in us, empowering us to GO and make disciples of all nations … and "lo", He concludes, "I am with you always, even to the end of the age"…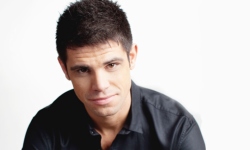 One of the key speakers that stirred me at last year's Global Leadership Summit was Pastor Steven Furtick, with his message of 'audacious faith' in which he challenged us to dare to believe God for the impossible.
Pastor Steven Furtick is the founder and lead pastor of Elevation Church in Charlotte, North Carolina, named by Outreach magazine as one of the fastest growing churches in the nation.  Elevation was founded on the faith of eight families who risked everything. Selling their houses and quitting their jobs, they moved to Charlotte believing that God would turn this city upside down for His glory through the local church.
After nearly five years, Elevation Church has grown to more than 10 000 in attendance each week at six locations. Since their launch, they've seen more than 15 000 people receive Christ. In 2007, 2008 and 2009, Elevation Church was named one of the "10 fastest growing churches in America" by Outreach Magazine.
The heart of Pastor Steven's message is audacious faith and how to approach every experience from a visionary perspective. As a young voice in the Church with wisdom beyond his years, his passion for seeing God's purposes fulfilled is igniting a fire in their city and beyond.
                                                (From Steven Furtick's website)
 After listening to his message at the Summit, we viewed it again at our Sunday church service, after which I was inspired to investigate the remarkable journey of Steven Furtick and Elevation Church and how God showed himself mighty on behalf of this young pastor for His glory. The highlight for me was when I watched, with tears and conviction, their baptism video, where they baptized over 2 000 people in 2 weeks from all different ages and backgrounds! As I saw the emotional and passionate faces of those being baptized, I was moved to begin digging ditches in preparation for this initiative.
Asking for the impossible!
And so, we are hoping to stir the Joshua Generation in prayer and faith to trust God more and dare to ask Him to do the impossible in our lives, our local churches and our city in 2012 and beyond.
This event and resources are based on Pastor Steven Furtick's book called SUN STAND STILL: What Happens When You Dare to Ask God for the Impossible? You can Buy the Book and download the resources for free at www.sunstandstill.org. You can also download the free sample chapter 2 from the Harvest website at: www.harvest.co.za/resources/notes-and-tools
The SUN STAND STILL Nelson Mandela Bay Movement will launch at 7pm on Saturday, April 2012 with a Multimedia Worship & Prayer Event at Harvest Christian Church. Harvest is a resource church that desires to be a blessing to the city.
The SUN STAND STILL resource DVD that we have created is a multimedia tool that includes the 6 week Small Group Short Film Series and many other resources freely downloadable at www.sunstandstill.org. We want to make one copy of this DVD available to as many churches in the city as possible. You can order duplicates from us if you like at around R15 a copy, but are also welcome to make copies for your own use in your groups. We encourage you to join us in using this curriculum during the 6 weeks following the SUN STAND STILL Prayer & Worship Event on Saturday, 14 April, concluding in the week of Pentecost Sunday, 27th May…
SMALL GROUP FILM TITLES:        SUGGESTED DATE:
| | |
| --- | --- |
| 1   Introduction | Week of 15-21 April |
| 2   Page 23 Vision |   |
| 3   Ramen Noodle Revival | Week of 22-28 April |
| 4   Faith Confessions | Week of 29 April – 5 May |
| 5   When the Sun Goes Down | Week of 6-12 May |
| 6   Loading Dock (Prayer) | Week of 13-19 May |
| 7   Dress for the Wedding (Declare it) | Week of 20-26 May |
| 8   Closing Message |   |
| PENTECOST SUNDAY | 27 May |
| HARVEST TIME OF EMPOWERING | 28-30 May |
We trust that you will prayerfully consider joining us in this event and stand in faith that God would move mightily in our city for His glory. If you feel that you and your team would like to partner and/or participate with us in this initiative please feel free to contact me, like the Facebook Page and join the Event…
Now to him who is able to do immeasurably more than all we ask or imagine, according to his power that is at work within us, to him be glory in the church and in Christ Jesus throughout all generations, for ever and ever! Amen.
Ephesians 3:20-21