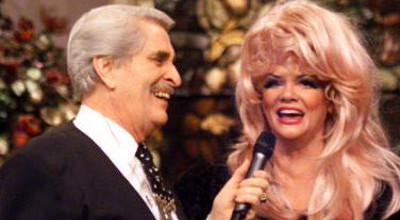 Paul Crouch, who co-founded the Trinity Broadcast Network with his wife, Jan, 40 years ago, passed away Saturday at 2:32 a.m. at the age of 79 after more than a decade of chronic heart problems.
TBN's website and Facebook page announced Saturday that, "Dr. Paul F. Crouch passed into the presence of the Lord on Nov. 30, 2013. We are grateful for the life of this amazing servant of God."
An official statement from TBN read:
"Paul's first love, the call he received as a young man, why he and his wife Jan founded TBN in 1973, and his life's work, was the Great Commission first given by Jesus to his disciples in the Gospel of Matthew 28:18-20:
"And Jesus came and spake unto them, saying, All power is given unto me in heaven and in earth. Go ye therefore, and teach all nations, baptizing them in the name of the Father, and of the Son, and of the Holy Ghost: Teaching them to observe all things whatsoever I have commanded you: and, lo, I am with you always, [even] unto the end of the world."
"Today heaven is a loud and joyous place where Paul has been greeted by the countless souls he lead, and helped so many others to lead, to Christ. He hated can't, insincerity, and giving less than one's all. Paul never tried to be anyone else, but was just himself in all his rugged reality, frankness, and humor. He loved mankind, and longed to introduce everyone to the Best Friend he and humanity ever had, Christ Jesus. We mourn Paul's passing and he will be greatly missed. But we know, as the old hymn reminds us, soon enough we will see him again in that great 'meeting in the air.'"
Two years ago, Crouch was hospitalized for congestive heart failure. A pacemaker was inserted into his body last year. Earlier this month, he returned to the hospital and required a ventilator but was sent home and his health reportedly was improving.
Due to Paul Sr.'s failing health, his son Matthew has taken over day-to-day operations of TBN. Paul Crouch Jr. had left TBN in 2011 to work for The Word Network.
Started in 1973, TBN celebrated its 40th anniversary this year. The Crouches purchased TBN's first station, KTBN-TV, in Southern California.
TBN since has grown to reach every major continent through 84 satellite channels and more than 18,000 television and cable affiliates worldwide. It has become the most watched faith network in the country.
The Crouches anchored the network's flagship program, "Praise the Lord," for several years. Crouch and TBN received many broadcast awards, including the Golden Angel Award from the Excellence in Media organization and the Parents Television Council Entertainment Seal of Approval.
Crouch Sr. was born in 1934 in St. Joseph, Mo., to Assemblies of God missionaries. He graduated from the Central Bible Institute and Seminary in Springfield, Mo., in 1955 with a degree in theology.
He and Jan met in 1957.
Evangelist Steve Hill was among those who offered their condolences on TBN's Facebook page. Hill said, " Please keep in prayer the Crouch family, founders of the Trinity Broadcasting Network as we and all their friends mourn the loss of President and Founder, Paul Crouch. The legacy of this ministry lives on forever."
Evangelist Rod Parsley, founder of Rod Parsley Ministries in Columbus, Ohio, posted, "Thanking God today for the life of Paul Crouch—a dear friend and mentor and a giant of the faith whose TBN Trinity Broadcasting Network helped bring untold millions around the world to a saving knowledge of Jesus Christ. Please join me in praying for God's peace to rest upon Jan, their family and all who called him a beloved brother in the faith. You will be missed but certainly never forgotten."
Christian News Service reported that John Hagee of Cornerstone Ministries said of Crouch: "Paul Crouch changed the course of Christian history by building a Christian network that spreads that Gospel of Jesus Christ to the nations of the world everyday. Our deepest sympathies for his loved ones today."