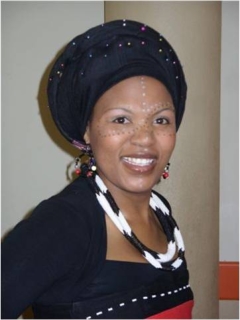 A spiritual journey will be traveled by all those attending the CD launch of one of Eastern Cape's golden voices, Unathi Luthweyi. The launch will take place in the King William's Town War Memorial Hall on December 11.
According to an EC Talent media release, although this is Unathi's debut album, her musical talents are known to many — especially in the King William's Town and East London areas. She performs at a number of government functions, weddings and church activities.
The 13-track gospel album entitled "Akuthethile Uyakwenza" (God Fulfills His Word) is produced by Eastern Cape recording company Multi Media WorX.
According to Unathi, the album is meant to be a "guiding force of the destination of human nature." She says that the album has a unique package.
"It talks to everyone especially the young generation, helping them to see their decisions should not be determined by circumstances surrounding them, but by having God by their side," says Unathi.
A firm believer in Christianity, Unathi says although she has been too shy to show off her talents over the past, she believes that she was waiting for God's approval to release an album written in both English and Xhosa. "I have performed in many events and have been described as a 'hidden talent' by many including local artist and producer Sivuyile 'Vovee' Batala," says Unathi.
Fans are expected to flock to the King William's Town War Memorial Hall on December 11 to listen to the sizzling voice of Unathi. Guest artists include local gospel singers Khanyisa Sabuka and Luleka Mhlanga.
Tickets are available at R50 (for adults) and R25 (for kids) at the Vodacom Stores in the Metlife Mall as well as at the door.  The show starts at 12h00.