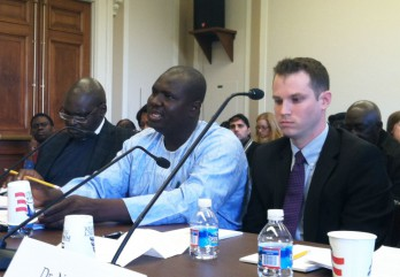 Originally published in World
Lawmakers from both parties lauded the Obama administration on Wednesday after the State Department announced it is designating the Nigerian terror group Boko Haram as a foreign terrorist organisation.
The official announcement came ahead of a joint hearing on Boko Haram in the House subcommittees on Africa and Terrorism Wednesday afternoon. The terrorist designation, which the State Department also assigned to the splinter group Ansaru, means the United States can freeze assets, prohibit members to travel, and bar anyone from providing material support to the organization.
Rep Chris Smith, R-N.J., chairman of the subcommittee on Africa, called the decision "historic" and "monumental" in the battle to defeat Boko Haram.
We see you've been enjoying the content on our exclusive member website. Ready to get unlimited access to all of WORLD's member content?
"The entire effort to combat this cancer called Boko Haram—and Ansaru—will be taken to a new level, because it's always about the funding," Smith told me. "These groups cannot exist without a flow of AK-47s and munitions of all kinds. … Now we'll do the kind of research that will make the difference."
Boko Haram—whose name translates into English as "Western education is sinful"—started in 2003 as the "Nigerian Taliban," but it has experienced a resurgence since 2009, killing thousands of mostly Christian Nigerians in hundreds of attacks across the country. The human rights group Jubilee Campaign reported Boko Haram killed more than 500 people in the month of September alone, including 150 Christians in a single highway massacre.
"This is a reprehensible organization that has attacked Christians at Christmas and Easter and Muslims who do not adhere to their bloody philosophy," said Brad Sherman, D-Calif.
Nigeria and Great Britain both designated Boko Haram a terrorist organization earlier this year, but the State Department for years resisted calls for it to do the same. Last month Smith filed H.R. 3209, which called for the United States to label the terror group a foreign terrorist organization.
Ambassador Linda Thomas-Greenfield, the State Department's assistant secretary of state for African affairs, defended the administration's decision to wait, telling the committees the United States only made the decision after much deliberation. "I know you think we took too long," she said. "But we made sure we got it right."
After her testimony I asked Thomas-Greenfield what pitfalls the State Department was trying to avoid with a quicker decision, but she directed me to the communications department. She said it was a complicated legal decision involving State Department legal counsel.
According to Rep. Smith, it's not that complicated. During the hearing he read the three criteria needed for foreign terrorist organization designation: A group must be foreign, engaged in terrorist activity, and be a threat to the United States or its interests.
Over at the State Department, spokeswoman Jen Psaki on Wednesday told reporters the designation was slow in coming because the United States was "trying to understand how Boko Haram is organized in order to be able to effectively target the group and its assets." She said the United States is confident Boko Haram has ties to al-Qaeda.
Emmanuel Ogebe, a human rights attorney who testified at the hearing, told me he was "underwhelmed" by the State Department's late action.
"A lot of the time and resources that we would have dedicated to victim care we used to try and nudge the administration to concede the truth," he said. "The victims that we deal with know and recognized terror. They've lived it for a decade. Somehow the State Department just got the memo that the Department of Justice, the Department of Defense, and the international community [already] got."
Thomas-Greenfield, who in August became the top U.S. diplomat to Africa, repeated a common assertion of her predecessor, Johnnie Carson, saying Boko Haram has killed more Muslims than Christians. Ogebe disputed the statement, noting Thomas-Greenfield didn't produce any statistics to back her claim.
Still, he praised her as "a breath of fresh air" compared to Carson, who retired earlier this year and whom most advocacy groups believe was too sympathetic to the Muslim jihadists fueling Boko Haram's terror spree. Carson maintained the violence was due to lack of economic opportunities in Muslim-dominated northern Nigeria.
"There is no grievance on the planet that justifies someone taking a chainsaw to cut off the head of an innocent person," Ogebe said.
Lawmakers agreed that Boko Haram has killed Muslims, government officials, and others, but Smith pressed Thomas-Greenfield to acknowledge the terrorists kill Muslims who speak out against the group, while they kill Christians just because of who they are. Thomas-Greenfield conceded that is true.
If there was any doubt, Habila Adamu put it to rest with riveting testimony about his encounter with Boko Haram on Nov. 28, 2012. Gunman wearing robes and masks came to his home in the northern Yobe state and told him they were doing the work of Allah.
"When I hear that, I knew that that day I would see my Lord," Adamu said.
After Adamu refused to denounce his Christian faith, the gunman shot him through the mouth in front of his wife, stomped on him, and left him for dead. He said they shouted "Allah Akbar!"—Arabic for "Allah is great"—before leaving.
Adamu, who became emotional at times, hardly glanced down at his notes as he looked lawmakers in the eye and pleaded with them, on behalf of all victims, to stop "the spilling of innocent blood." He said God allowed him to live so he could tell his story and do everything possible to end the persecution in northern Nigeria.
Nigeria, Africa's most populous and oil-rich country, is roughly split between Muslims and Christians. Muslims have enacted Sharia law in the north, but Boko Haram, among other objectives, wants the entire country to adhere to the strict Muslim code.
Thomas-Greenfield, who estimated Boko Haram membership "probably in the mid-thousands," said the Nigerian military does have the ability to beat the extremists, but "they need support."
Witness Jacob Zenn, author of the 2012 book Northern Nigeria's Boko Haram: The Prize in al-Qaeda's Africa Strategy, told the committee the terrorist designation is a good start, but most of Boko Haram's funding is now local and non-traditional. He urged the United States to aggressively pursue the group's underground network of support and not rely on stopping traditional financing methods.
I asked Zenn, who has been investigating Boko Haram for five years, why he thought the administration waited so long to make the terrorist designation, and he said it may be that the government simply didn't know enough about the group and its operations.
Democrat Brad Sherman, the ranking member of the subcommittee on Terrorism, Nonproliferation, and Trade, said the nation has heard a lot about the Obama administration's pivot to Asia, but "it's time for us to pivot to Africa."