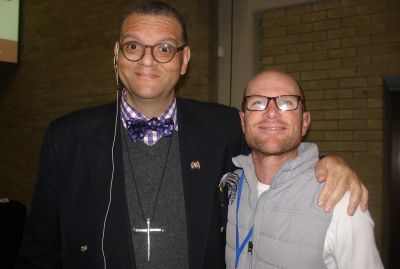 Canon Andrew White, the world-renowned Vicar of Bagdhad today (Thursday, May 14) concluded a week-long visit to South Africa during which he shared about his remarkable ministry of reconciliation in Iraq and the Middle East and raised support for persecuted Christians in the region.
More than 4 000 people attended White's public meetings in Johannesburg, Durban, Port Elizabeth and Cape Town and if all pledges made during the week come in, the fund raising goal of R500 000 should be realised, says Gustav Krös, Project Manager of INContext Ministries which invited White to SA.
Surprising joy
Krös says he believes that White's message of joy in spite of the extreme human suffering in the region was refreshing and took many people, including himself, by surprise. During his messages White shares shocking stories of children being beheaded for their faith and other grisly happenings, but somehow in the midst of the tragedy he manages to highlight inspiring bonds of love between people with each other and their God.
Commenting on White's messages to South African Christians, Andrew Richards, INcontext Ministries Head of Research says: "A highlight was the continual statement by Andrew White that the persecuted church in Iraq (and elsewhere) and the church in South Africa were one and the same body.The fact that we share this body removes all barriers by bringing Iraqi Christians right to the front door of Christians in South Africa. Andrew's ability to continue working in such a hostile environment stems from his statement of faith saying that 'when you have lost everything, Jesus is all you have left'. From this point of view Christians in Iraq have one comfort, that Jesus will never leave them, even if they lose everything."
Early in his visit to SA, White met with South African Jewish leaders in Johannesburg and there was discussion about a joint event in South Africa next year to highlight Christian-Jewish solidarity, says Krös. He says White has said that when the ISIS onslaught against Christians and other minority groups in Iraq began a year ago Jewish people from Israel were the first to provide financial and humanitarian support to his ministry, saying they understood what it was like to be persecuted.
White's trip to South Africa was his first, despite the fact that he had grandparents from South Africa. According to Krös the Chaplain of St George's Anglican Church in Bagdhad says the food, friendliness and welcome he experienced in SA all exceeded his expectations.
In a Facebook Post on Tuesday White says: "Loving South Africa but so desperate now for my people. They say they need me for everything but I am really the one who needs them. Lord be with my people I need them Lord so much."
White is due to fly out of Cape Town this evening, headed for the United Kingdom.