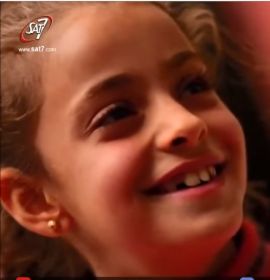 Little did the young Iraqi refugee girl know that her comments about forgiveness would go viral.
When interviewed recently by Sat 7 reporter Essam Nagy, 10-year-old Myriam shared her heart about life as a refugee in Erbil, Kurdistan. She told Nagy that she forgives ISIS for forcing her family from their home last summer in Qaraqosh, Iraq.
Now, Myriam's words have been viewed by at least 500 000 people, and her child-like faith has encouraged and inspired Christians worldwide. Tens of thousands were moved by her sweet, precious song of praise.
So, how is Myriam doing now, and why did her comments go viral on the Internet? Essam Nagy brings us the story behind the story. Watch my interview. You won't be disappointed!
Then, please do not forget to pray for Myriam, her family, and the millions of Iraqi and Syrian refugees experiencing daily hardship in camps throughout parts of the Middle East.
Watch Myriam's video: