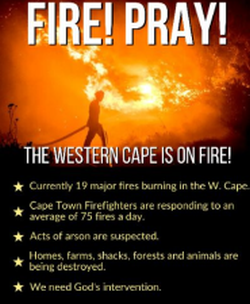 As fires in the Western Cape continue to rage — 19 have been reported in the province this week — churches throughout the province are being urged to set aside time in their services and Sunday School gatherings to pray specifically for the fires to cease.
"Land is being lost, farms, forests, homes and lives too. We believe God is calling His church in the Cape to fight these fires by PRAYER," says Pastor Demitiri Nikiforos in a call to prayer issued by God's Army (www.godsarmy.co.za).
"Hebrews 11:34 speaks of believers through faith 'quenching the violence of fire'. The Western Cape fires are extremely violent, but God assures us that our faith has power to QUENCH them!" he says.
"It appears that many of these fires are being started intentionally. Our desire is that God would intervene to stop this needless wave of damage and destruction," says the statement.
For questions or further information, please contact Pastor Demitri Nikiforos at 074 589 5890.