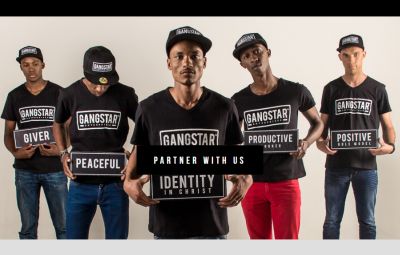 The Mighty Men Conference Western Cape team has reached out to gangsters in the wake of gang violence in the Western Cape that has seen 31 people — mostly youths — killed in just 31 days in Delft, on the outskirts of Cape Town.
"We made contact with Minister Dan Plato there and through a rehabilitation group called Gangstar Enterprises, we have given out 10 free tickets [to the Mighty Men Conference at Malmesbury from September 23 to 25 2016 to former and still being processed (released) Gangstars to come to Mighty Men," said MMC WC marketing team member Piperjames.
Gangstar Enterprises operations manager Ruan Toua said that they wish to give back to the MMC by assisting in any way they can with the conference where thousands of men get together for a weekend with Jesus and one another. Gangstar Enterprises also aims to use the partnership opportunity with MMC WC to spread awareness of what it does through its incubation programme to provide former prisoners a second chance at living productive lives.
He said he and a team from Gangstar will go the MMC venue at Moreson Farm near Malmesbury on Wednesday September 21 to assist with setting up of the stage and other advance tasks. They are also bringing along "the soft machine" which is an ice-cream truck that is run as a businesses by ex-convicts.
Toua said that through his daily involvement with former criminals, overseeing their business tasks as well as their personal and spiritual development, he has been amazed at their biblical knowledge and the strength of their walk with God.
He said things that most people take for granted mean much to these men. For instance, he said that he opens up the Gangstar business each morning but one day he left the keys with one of the ex-convicts so that he could open up the shop the following day.
He said that trusting his men is a choice that he makes each day without it being much of a big deal but his action of of trusting an ex-convict with the keys that day had a huge impact on the man.
"For that gentleman to have had that level of trust placed in him had had an enormous effect on him," he said.
The programme for the MMC WC can be viewed here: https://www.facebook.com/mmc.westerncape/posts/691565937662132
Tickets for the event can be purchased at R160 at computicket.