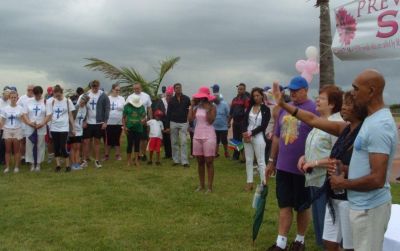 "What a mighty God we serve. The Durban prayer walk was a massive success with great support and wonderful testimonies. God was glorified and His Holy Spirit was evident," says Dias Isaac, of Prevailing Women which hosted the event last Saturday (February 28, 2015).
The day was grey and rainy, but this did not stop the people who had come out to bring the city and its problems before God. At the halfway point in the 5km prayer walk the rain was coming down quite hard, but still they prevailed in their now wet clothes. Not one person took the opportunity of a bus ride back, but instead they walked on and prayed in the rain, says Isaac. 
So often people have looked at rain as a symbol of blessing and cleansing from God, and this occasion was no different, she says. The participants firmly believe that God's blessing was pouring down on the event and thank Him for His faithfulness. 
Isaacs says many testimonies have come back to her and encouraged her to make the prayer walk an annual event. One such testimony was of a lady praying in tongues while a man who had blown the shofar walked beside her, praying an exact interpretation of her prayer language. 
Isaacs says: " While so many Christians are being martyred in the world because of Jesus, it was affirming to see that a little bit of rain did not deter our people from praying for the City of Durban." 
"Thank you to everyone who took the time and effort to come out and pray for your City."