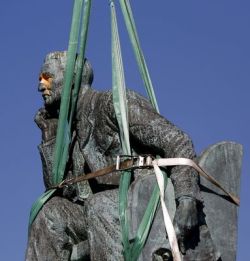 I have been saddened by the level of dialogue currently raging over historical statues in South Africa.
"A nation divided by statues" read a recent newspaper cartoon heading. Of course the underlying issues are much deeper than just statues. But the dialogue reflects a nation that still has a long walk to true freedom. And I can't help feeling that the current rhetoric is not helping us to progress on our journey.
I can understand that many South Africans feel that some of these statues remind us of the pain of our past and that some people do not deserve to be continually honoured in this way. I can also understand that the language used makes some white South Africans feel that they are not wanted or appreciated in this country.
But I am deeply grateful that previous leaders such as Nelson Mandela worked so tirelessly to create a non-racial rainbow nation. I appreciate the fact that our constitution says that South Africa belongs to all who live in it, and that includes me,  a white South African.
So where are the voices of reason? Where is the voice of leadership seeking to bring South Africans together, to create understanding and racial harmony? Where is the voice of the Church that speaks to the truth of Scripture that God desires His people to be one, and to live in peace and harmony? How much damage will be done before leadership finds solutions that deal with the hurts that the statues are a reminder of and the insecurities that the rhetoric creates? How as a nation will we deal with those deeper issues that still divide and isolate?
As for me I am more determined than ever to be part of the solution and not part of the problem.