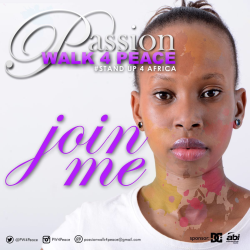 Members of Tim Omotoso Global Outreach's (TOGO) Youth Empowerment Project (YEP) will reach out to the city on Saturday, August 8 with a peace march, PassionWalk4Peace, from the Durban City Hall to New Beach where they will host an outreach programme and a concert.
The marchers will depart from West Street, near the City Hall, at 11.30am and the concert will start at 1pm. Some of the youth participating in the walk will clean up the streets of Durban en route.
Kay Sibiya (who plays 'Ayanda' on SABC 1's hit telenovela 'Uzalo') and Phindile Gwala (who plays 'Nonny' on SABC 2's Soapie 'Muvhango') are the MCs on the day. Performing live are the International Award winning girl-band Simply Chrysolite, Durban's Number 1 ranked gospel choir*, Covenant Voices (*on Reverbnation's gospel/Christian chart), Yung Royalz, Vuyiseka, and South Africa's top pop artist, Ntando. DC Shoes South African ambassador, Drumkit (former Number 1 beat boxing star) will also take part.
"PassionWalk4Peace is an outreach programme designed to reach out to anyone passionate about life and change. The youths of TOGO want to inspire before their time expires, and this unique event, initiated and driven by them is the very first of its kind," say the event organisers in a press release.
Everyone is invited to the free events. Light refreshments will be available. For more information, contact email passionwalk4peace@gmail.com, or phone Nolwandle  at 082 063 5802, Zar at 061 727 5492, or Jody at 076 155 4712. Social handles: IG & Twitter: @passionwalk4peace Tags: #PassionWalk4Peace #StandUp4Africa.