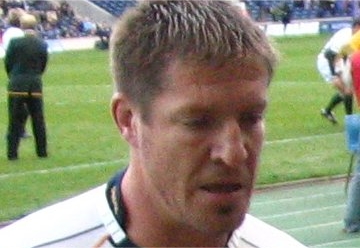 Springbok coach Peter de Villiers said that Bakkies Botha's return from injury to play in tomorrow's Pool D World Cup clash against Fiji is one of the greatest miracles he has seen in a long time.
In an interview with Radio Tygerberg News, De Villiers said that as a Christian he always had a daily quiet time, read his Bible and prayed. When the team doctor, Craig Botha, told him last Friday that there was no way that Botha's chronic achilles tendon injury would recover sufficiently for him to play in the World Cup, he asked him to keep that diagnosis to himself. He said he would make a decision on Monday.
"And then I went to Bakkies and said if you don't train tomorrow you are going home. And the next day he trained as if he had never been injured. So Bakkies came to me that evening and said 'Thank you very much for your prayers coach' ."
Botha missed last weekend's 17-16 victory over Wales because of his injury, but after his sudden recovery he will start in Wellington alongside second-row partner Danie Rossouw. Botha told reporters he expected to feel some stiffness but he was confident he would make it through tomorrow's encounter without any further problems.
De Villers told Radio Tygerberg News that the match against Fiji would be a fierce battle but that the boks were ready for the challenge.
"We know that Fiji are physical. We know they are good carriers of the ball and that they are big, atheletic men who can do just about anything," he said.
He said the boks had therefore decided to pick their heaviest forwards pack ever, with very limited mobility. He said this could possibly give Fiji an advantage.