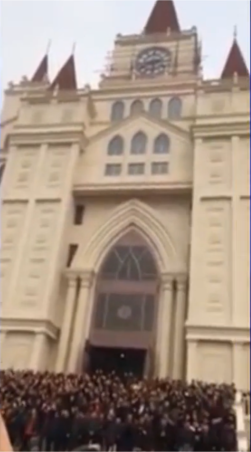 Originally published in CBN
Thousands of Christians in Wenzhou, China, have formed a human shield around Sanjiang Church after the government announced plans to demolish the building.
On April 3, government authorities notified the church leadership their building would be razed within 15 days.
With the deadline for demolition approaching, church leaders and congregants are holding 24-hour vigils.
Hundreds of Chinese Christians gathered in front of the building to sing and pray, while a prayer vigil took place inside the building.
Local officials claim the government-approved Protestant church violated certain building codes and is structurally unsafe.
But the eight-story, 1,000-square meter building was designated a "model project" last September, according to church's website.
Church leaders say communist party officials bristle at seeing crosses atop church spires and have raised concerns about the rapid spread of Christianity in the province.