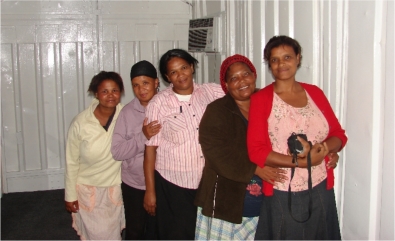 Six years ago Joe Slovo, outside Uitenhage, was just another dusty, forsaken squatter camp where the children of the poorest of the poor sniffed glue on the street.
But God had other plans. Some Christians from Uitenhage and Port Elizabeth started reaching out to Joe Slovo residents in 2005, beginning a bond of Christian love that has never stopped growing.
And so it was a day of high emotion yesterday  when four shipping containers were delivered  to provide much-needed classroom and office space for Zoey's Little Lamp, a creche which is run by a volunteer group of Joe Slovo mothers who have a passion for children. The creche caters for 46 local pre-schoolers and has a waiting list for about 120 children. The creche was started on an open rugby field. Three years ago two containers were acquired and later roof sheeting was spanned between the containers to provide more undercover space. The creche has been an outstanding success and city people who have attended its sports days and concerts have marvelled at the high standard that the teachers and children have achieved with limited resources. But for the past year it has been very cramped.
A step of faith
"Clearly God was very much in it and because we believed He would therefore provide for it, we decided in faith to purchase four containers to alleviate the desperate shortage of space," said Ray Weiss, the co-ordinator of a multi-disciplinary team of volunteers from the Storehouse New Covenant Church in PE who partner the Joe Slovo community in various upliftment projects including the creche, gardening projects, food and clothing assistance, job ceation,and midweek church services ministering to adults and children of all ages.
Weiss, who is better known at Joe Slovo as "Oom Ray", said signs of God's favour on the Joe Slovo initiatives included the interest shown by people from many countries. "We have never asked for financial assistance or campaigned for people to visit Joe Slovo. But various local companies and individuals have assisted and we have had visitors from Germany, Spain, Holland, Portugal, Britain, Brazil, Venezuela and the United States. And people who have looked have wanted to contribute to what is happening here."
After receiving some cash gifts from two overseas wellwishers, Weiss and his team decided to approach container suppliers even though they were still well short of the purchase price. When the container suppliers learnt the purpose for the purchase they were supportive and agreed to keen prices and to reserve the three containers for two weeks to give the purchasers time to raise the balance. But when one of Weiss's colleagues produced a surprise donation "for Joe Slovo" of R9 000 that had been made by a fellow congregant the day before, it was agreed that the purchasers had raised an adequate deposit and that the containers would be delivered. A fourth container was sourced through a newspaper advertisement: this container, which has fitted lights, an air conditioner, plug points, a carpet and cottage pane doors, has been earmarked for the creche office. There is no electrical supply at Joe Slovo yet, but Weiss said he and his team had faith that the office would soon be connected to an electrical supply from a line that feeds a nearby high mast area light.
"We are still R27 000 short of what we owe for the containers but I have no doubt God will provide.  The children and the teachers have persevered for a long time in hot, crowded conditions without losing heart. We could not postpone it any longer."
A dream come true
The status of Joe Slovo has changed from squatter camp to informal settlement in recent times. But residents still live in shacks without flush toilets and running water, and rely on the infamous "bucket system" for sanitation. Weiss says the arrival of the four containers was "a dream come true" but it was just the first phase. As soon as a proper sewerage system was in place they would acquire a 12 metre container which they would fit with toilets and basins for the children. He said it was anticipated that Joe Slovo would become a proper township with RDP houses and that the creche would have to move to a site designated for educational purposes. "That is why we decided to use containers: when the time comes we will simply move the school," he said.
The delivery of the containers was not without drama yesterday. Weiss, and Storehouse elder Allan Verryne, and the volunteer teachers, helper and secretary all jumped for joy when the first containers arrived at 8am. But due to hydraulic problems with the truck, it was nearly 9pm when the last container was put in place.  The women volunteers did not leave the site all day, as they waited patiently for 12 hours for the arrival of the last two containers. The crane hire team members that delivered and installed the containers were clearly touched by the emotions invested in the occasion and showed great diligence in completing the job in the dark.
When the delivery rig finally pulled away and those left on site gathered in a circle to give thanks there were more than a few tears of heartfelt gratitude.