[notice]A monthly Christian sport column by Cobus Kruger, a professional triathlete who is passionate about evangelism, leadership and community development through sport.[/notice]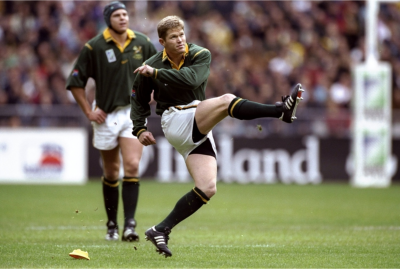 The World Cup rugby is finished and New Zealand earned a well-deserved win. The impact of Carter's drop goal in the Semi-Finals (All Blacks vs Boks) was significant. Likewise in the second half of the Finals when Australia tried to play themselves into the game Carter kicked a telling drop goal which made things even more difficult for the Wallabies. This reminded me of a game in the 1999 World Cup.
I want to talk about a man that was first a hero to me and later became an example of someone that put Jesus in the centre of everything.  These days he is a friend and a brother who is standing with us in the ministry to bring Jesus and His hope to people. This man's name is Jannie de Beer. After his world record of five drop goals in one game against England in the 1999 Rugby World Cup he was named the man with the "Foot of God".  Here is an insert written by a reporter just after Jannie kicked England out of the World Cup with those 5 Drop goals:         
"AN UNSUNG flyhalf blessed by 'the Foot of God' knocked England out of the World Cup in Paris yesterday.
Jannie de Beer landed a world record five drop goals in South Africa's 44-21 quarterfinal victory and then claimed that his achievement had been inspired from above and England had really fallen victim to divine intervention.
'Some of the things which happened out there today were supernatural,' he said. 'God gave us this victory. I am just happy to be part of His game-plan.
'Sometimes things happen in such a way that you just don't have an answer for them. I personally feel God had a hand in this. I want to give Him the glory."
All rugby followers will remember that day. Here is Jannie's personal story:
He grew up in a house where his father was an alcoholic. His mother drank with him at first but stopped when she had had enough. His dad, on the other hand, went on and this lead to his parents' divorce.  Jannie's dad also didn't pay child support regularly. At this stage Jannie was about 13 years old and his mother had to get three children through school and put food on the table with a disability pension. This left Jannie with an absent father for most of his school career. By God's grace Jannie received a sports bursary that enabled him to go and study. During his second year of tertiary study Jannie's dad showed up again and wanted to "claim" him as his son due to the successes that started to arise in his sport career. Jannie's dad was still hooked on alcohol and it went on to the extent that Jannie had to get an interdict against his dad.
Challenged to forgive dad
In 1994, during a church service, the Lord challenged Jannie to forgive His dad. Jannie didn't want separation between him and God so he wished to make things right with his father. He went to His dad and said to him the following words: "Dad, I forgive you for everything you did to us" with the expectation that this action in obedience to God would not only restore their relationship, but that it would also lead his dad on to the right path… But his dad's life went from bad to worse. Jannie could not understand why this happened.  He felt freedom after that day, but did not understand why his well-meant words didn't change his dad. That was Jannie's confusion.
Ten years later, in 2004, Jannie and his wife attended a FFI seminar and within the first 30 minutes Jannie realised what had gone wrong in his talk with his dad. He realised that it was a scheme from Satan to use what was meant to restore his relationship with his dad to make things worse. Ephesians 6 reads that we have to put on the full armour of God so that we can be "watchful for the schemes of the devil". Jannie realised that Satan used his words meant to be a blessing in such a way that his dad heard them as a curse and missed out on receiving the blessing. His dad heard the following: "Dad thanks for all the rubbish that you caused in our lives…" Jannie's words just confirmed all the things that his dad already heard and believed in his heart. Things like he is not good enough, that he only brings disruption, that he should rather go away and that he is a failure…
Jannie went to his dad for a second time under the guidance of the Holy Spirit. He then made the following four requests:
Dad, forgive me for not knowing what you went through
Dad, forgive me for hardening my heart towards you
Dad, forgive me for judging you with my words
Dad, forgive me for not honouring you as my earthly father
Turning point
It is was at this point that the restoration between Jannie and his father began and they are now closer than ever before. His dad is a blessing to his whole family, is healthy and sold out to Jesus, and went from nothing and living on the street to being a successful business man without debt. Praise Jesus!
Let us check out our hearts and relationships with our family and fellow men today. Let us step out in obedience to God like Jannie did to make things right. Let us look at our family and fellow men through the eyes of Jesus with forgiveness and let's see how God heals relationships in our country in His supernatural way.    
For Jannie to kick a world record of five drop goals in one match he had to step out in obedience and into action. As he did that God used it in a supernatural way. Peter only saw the supernatural happen when, in obedience, he took the step of faith out of the boat to walk on the water with Jesus. Jannie had to be obedient and take the step of faith to go to and reconcile with his dad. Only then did the supernatural happen.
So let's be obedient to God today and let's take the step of faith and make the "drop goal" and see how God uses His supernatural power to work through our obedience today.  
My Program Generator (MPG) fitness training with Cobus Kruger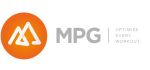 Click here for more info on how Cobus and the next generation in fitness training system MPG can help you to achieve your fitness goals in running, swimming, cycling, duathlon, triathlon, or aquathletics.