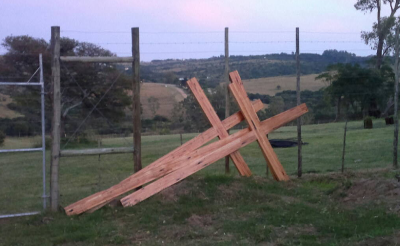 Spiritual refreshing for all ages
East Londoners of all ages are invited this weekend to join in an "unforgettable" Jesus adventure called 'Footprints' of life.
Organised by the team that blessed the city with successful events like Guts 4 Glory (2012), Spread Your Wings Conference (2011) and Houtkruis (2010), 'Footprints of Life' takes place during a 1.1km scenic stroll and focuses on 10 key moments in the life of Jesus.
The outing, in Evergreen Park, close to the Spirit and Life Church, includes a youth event on Friday evening and a family event on Saturday.
Deon Botha of Spirit and Life explains that the church arranges an annual outreach event for the greater East London community. "This year we were led to host 'Footprints'."
He says that organisers, Gerhard Moolman and his team go to great lengths to follow the leading of the Holy Spirit and that prayer warriors back up the planning with extensive prayer.
'Holy Spirit surprise'
Adding a touch of spice and mystery to the event he says there is a 'huge Holy Spirit surprise' in store for everybody participating in the event.
'Footprints of Life' will take place in a lovely countryside setting where you can "put on your tekkies and stroll, pray or wait upon God", says Botha.
'Footprints' will kick off on Friday evening at 18h00. Like Joshua took down the walls of Jericho with trumpet blasts and great yells of praise to the Lord, the night march, aimed at the Youth, will begin with praise and worship led by the dynamic band Geesdrif, who were at the Karooo Mighty Men Conference.
On Saturday, May 18, and Sunday, May 19.the route will be open to the whole family from 09h00 to 17h30. On Saturday Steve and Anita Ferriera will be ministering. From 07h00 to 09h00, Steve will share the Word with the men, and at 09h00 Anita will minister to the ladies.
And when it's all over? Spirit and Life Church have a follow up programme scheduled to provide support and counselling after the weekend.
"We also interact with other churches and refer people to other denominations involved. It is not a recruitment drive," Botha assures, confident in God's awesome Grace that finding His will is central to the purpose of the weekend programme.
While keeping tight-lipped about the 'Holy Spirit surprise', Botha says: "We have recorded voice narrations of every 'moment' to guide our visitors through the route and help them understand the significance of every moment. We load sound files on to cell phones or MP3 players for visitors, so they can proceed at their own pace along the route."
"There are keepsakes at different moments that will remind them of the experience, but I don't want to spoil the surprise and give away too much detail. But it's going to be an unforgettable event!"
He offers a couple of last minute tips:
Wear comfy shoes,
Bring your own ear phones along,
Guests will be blessed with something to drink and eat.
Visitors will be able to follow directions from the Old Gonube – Beacon Bay Road; turning up at Evergreen Park to find the 'Footprints for Life' route about 700m along, on Holm Hill.
"Don't miss out, come and hear what He wants to share with you, that your footprints in this life leave the message of His Hope," says Botha.
More information can be obtained by calling Gerhard Moolman on 083 657 4187 or Elaine on 082 487 4406.