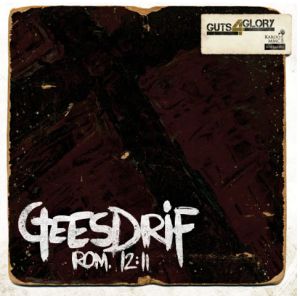 East London based band, Geesdrif, is releasing their CD, Guts4Glory,  at KMMC this year. The CD contains 12 original songs that they recorded live at the ECAVC studios in East London.
The CD is a special edition for the Guts4Glory and KMMC 2013 partnership, that contains both original Afrikaans and English praise and worship songs. The songs display the band's ability to minister to a wide range of audiences. It contains intimate worship, youth praise and even rap songs.
The band consists of three members, Jurie van Rooyen on Vocals and Guitar, Wayne Gowar on Vocals and Drums and Bushy Koekemoer on Bass Guitar.
"Geesdrif is not just a band. We are a ministry. We are constantly looking for ministry partnerships where we can make a difference. We have become involved in the Dumpsite Ministry at Middelburg in association with Middelburg Family Church. The aim we have beyond our music is to uplift communities and leave a legacy. A physical legacy. With this CD we will sow 30% of all profits to the Dumpsite ministry, with the hopeful aim of changing the lives of children at risk and the less fortunate.
We have tried to achieve a balance in praise and worship on the CD, but mostly we had fun in the Holy Spirit while recording it. We had one day in studio and we thourogly enjoyed it. My wish is that people sing along to the songs". Says Jurie