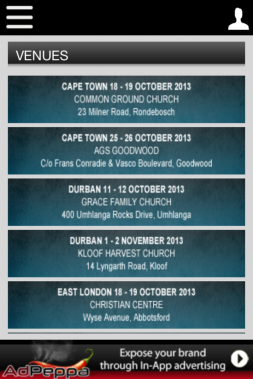 The Global Leadership Summit (GLS) 2013 has launched a smart phone app designed to enhance delegates experience at the summit which gets underway at 12 venues in South Africa and Namibia from next week.
"It's called Global Leadership Summit South Africa and it  is available on all platforms : android, BB and iPhone, says Janine Couchman, Executive Manager of Willow Creek SA, which is hosting the events.
She said the app is still being tweaked a bit but is basically ready for use.
The app's features are:
Dates, Cities and Venues with addresses and Google directions to the venue.
Speaker information.
Notices which can be used to communicate with all people who have downloaded the app.
Link to GLS online registration website to buy tickets if there are any available.
Contacts : For users to store contact information of people they meet at the event or to store exhibitor details.
QR Codes are created for every person who has the app so QR codes can be scanned amongst the delegates and store information.
There is also a voting section where every speaker can be voted for on a scale of 1-5. The overall event and resource centre also has a voting category.
Media where people can watch video clips if they want to invite someone to attend or see highlights video clips.
There is also a shopping trolley which takes users to the GLS online shop where they can order resources.
Social media links are also available so people can tweet and update Facebook status and post photos during the GLS event.