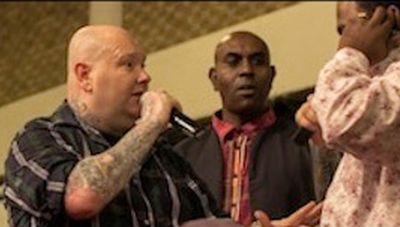 It's more than signs and wonders. It's the glory realm, says evangelist
[notice]ANDRE VILJOEN spoke to evangelist Todd Bentley who has been in Tongaat, KwaZulu Natal, since early this month, leading healing revival meetings that are being viewed by a worldwide television audience.[/notice]
"I only expected to be in Tongaat for the four days for which we were invited," said Canadian evangelist Todd Bentley who is at the centre of a reported outbreak of miraculous healings and salvations that have been taking place at a rally in the KwaZulu-Natal town for the past fortnight and which shows no sign of stopping soon.
The Great Awakening Revival, as the event is billed, has been capturing attention worldwide as Christian television network, GOD TV has interrupted its regular programming to screen the event live each night since April 12. People are travelling to Tongaat, which is 37km north of Durban, from all over the world and many churches in different countries have set up large screens to televise the revival meetings to their congregations, says GOD TV in a press release. Reportedly, some 1 200 homes in different parts of the world are participating in GOD TV's Living Room Initiative in which people invite their friends and neighbours to join them viewing the live broadcasts from South Africa. It says its broadcasts reach 220 million homes. Up to 4 500 people are attending the service each night. During the live broadcasts many people testify to experiencing healing and messages are read from people around the world who say they have been healed or encountered God while watching a service on TV.
Critics
The controversial, 37-year-old, heavily tattooed evangelist attracted international media attention five years ago when he was at the forefront of a season of revival meetings known as the "Florida Healing Outpouring" or the "Lakeland Revival". He stood down from ministry in July 2008 after his marriage broke down and he became emotionally involved with a staff member — now his wife, Jessa. A number of people have posted strong negative views about Bentley online: criticisms include that he was restored to ministry too quickly, that he should not be ministering at all as he is an adulterer in God's sight because he is divorced, that his healings are phony, that his ministry style is ungodly, and that he is a false prophet.
Gateway News spoke to Bentley in a telephone interview this week. He said that Durban has a special place in his heart as it is where he was originally "released" into his healing ministry at the age of 23. He came to South Africa this year with a sense that God wanted him to return to his roots. He also felt called to "redig wells in South Africa that had been established by great past revivalists like John G Lake and William Branham". The current Great Awakening meetings in Tongaat are being held in a church belonging to the Apostolic Faith Mission, a denomination that was established by Lake in 1908.
The Tongaat event was only meant to run for four days. But then healing miracles began to break out and each night a sizeable number of people, including many Hindus and some Muslims, responded to the Gospel message and made first-time commitments to follow Jesus.
But there is more to the event than many healings and salvations, said Bentley.
"I love miracles, signs and wonders. I have done more than 150 crusades, with crowds of anything from 10 000 to 120 000 people per night. At this stage in South Africa the barometer is not just miracles and crowds, its not just dollars and cents. It's the glory realm of sovereign grace and presence that I have only experienced a handful of times in 16 years of ministry – a handful of times in which I have been anywhere where you could say this could be God. And once you've tasted real revival you can smell it and you know where it is happening," he said.
"I cant see us not being here until at least the end of the month. At this point its week by week, trying to follow the Lord."
He said if he and his Fresh Fire ministry team go beyond the end of the month, it was possible that they might also visit another South African city or cities.
'Incubator stage'
"But I'm cautious right now because it's in what I call an incubator stage. It is a crucial time right now to really give birth to what the Lord is doing. I do feel something is being birthed. I know it's got a spirit of revival on it. People are coming alive again, getting their fire back – so in that sense it is revival. But is this something that is going to be the global awakening? Is this the harvest at the end of the age? Or the beginning of it?
"It's not just this – because it's never about just one thing or one ministry: you'll see it breaking in many waves on many fronts. Already we are getting reports of it breaking in England, breaking in Dubai – getting reports of it spreading. That's always a sign of revival. It's showing similar patterns to Lakeland in the beginning. So it's a case of what do we have here Lord? I am willing to stay as long as the Lord says 'stay'."
I asked Bentley what he had to say about the criticism against him.
On the question of his return to ministry he said that after he stood down in 2008 he felt that he had disqualified himself from pursuing any kind of ministry again.
"It took Rick Joyner, who was reaching out to me as an apostolic father, six months to talk me out of the discouragement and depression."
He referred to an interview with GOD TV co-founders Rory and Wendy Alec in January, 2013, in which he had spoken openly about his divorce and extra marital affair, and had sought GOD TV's forgiveness. The interview can be viewed online.
Bentley said Joyner reached out to him many times a week saying he could be restored — not to ministry but to God and the Body of Christ.
"He told me 'God loves you and can restore you to ministry if He wants to'."
"I did not preach a single message or minister – even pray for somebody for 17 months."
On Dec 13, 2010 Joiner asked him to lead a Friday night service at his Morningstar Church. He was asked to share on his restoration and to publically repent to the church.
"For the next year I was only allowed to do ministry in the context of Rick's local church under his oversight. By the time I ministered at a meeting on the road again it had been 2 and a half years, since I had done any public ministry, outside of the local church. To me that isn't a quick process."
Responding to skeptism about healing and other miracles associated with his ministry, Bentley said he encouraged people to go to doctors to confirm their healing.
Healings
"We can't verify all healings. But when you are blind and you can see it's pretty obvious. Last night the first miracle involved a Hindu lady who was totally blind from blood clots and her sight came back instantly. God has also been healing many deaf mutes."
Asked about reports of the supernatural manifestation of gold dust and diamonds, Bentley said he never "chased after" unusual miracles but they sometimes "showed up" when "the glory fell".
"We preach the Gospel at every meeting, have an altar call at every meeting, worship at every meeting. We go after the presence [of God]. I emphasise that the healings confirm the Gospel. The gold and diamonds I think is just an unusual sign. I always point people to Isaiah 60, the scripture passage that talks about the glory will be seen upon you. What is that? The visible glory. Why gold and diamonds? I don't know but in the holy place in the tabernacle everything was overlaid with pure gold. Gold in the Bible is the symbol of glory. So I'm not surprised then if the glory shows up, gold shows up."
I asked Bentley how he stayed physically and spiritually fresh during long crusades such as Tongaat.
He replied: "I guard the secret place. I am pretty much locked down from 4.30 to 7pm. I spend the time in quiet before the Lord. 'What are we doing tonight Father?'.
"Everything is scheduled around that window of 2 or 3 hours alone with Jesus.
"I also guard that I get 8 hours of sleep every night. So I also hold no meetings before 10am."
Bentley confirmed that his wife Jessa is with him in South Africa.
"She goes with me everywhere. We are never separated," he said.
" She's my number1 emotional support. And she's the one that has been getting most of the dreams, the words from the Lord, and angelic visitations and things that are helping me at these meetings.
"She's the prophetic voice behind the scenes and time and time again the things that are happening to her are what's showing up at the meetings. The gold started with her. She got out of the shower, the glory touched her, her fever broke, she got healed and her whole body was covered with gold in our hotel room. That's how I knew something was going to show up in the meetings."
Currently GOD TV is airing its live broadcasts of the Great Awakening from 7.30pm. In a media statement released yesterday it says it will continue with the live broadcasts until at least Sunday, April 14.
"We're asking our viewers to stay tuned to GOD TV for the latest schedules as we continue to interrupt our usual programming to bring them revival LIVE as it happens," said Wendy Alec.
GOD TV can be viewed across Africa via satellite, on TopTV and on the public bouquet of decoders in South Africa. The Great Awakening meetings are being streamed live at www.god.tv and also through the GOD TV App, available on iTunes.