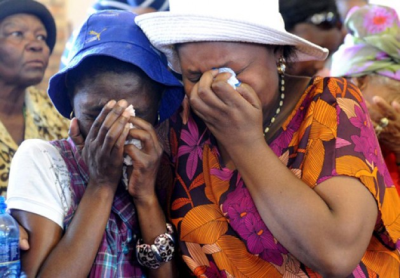 A letter to the emerging JUST1HR movement in Nelson Mandela Bay (NMB) in response to the rape of a six week old baby in Kimberley last week, has sparked a JUST1HR prayer and action gathering on the Donkin Reserve, Port Elizabeth from 13:00 to 14:00 tomorrow (Thursday, December 5).
In his letter entitled 'She is your daughter' the writer, who wants to remain anonymous, expresses dismay that our nation seems powerless and without resolve to stop such hideous crimes as the latest reported baby rape. He also calls on JUST1HR to convene an hour-long gathering on the Donkin to give people an opportunity to "show they care". JUST1HR, which grew out of an ongoing prayer initiative involving metro church leaders, aims to mobilise citizens to give an hour of their time each month to work on community projects in NMB.
The programme for tomorrow's impromptu event includes a chat by Luke Watson, captain of the Southern Kings, entitled 'Real men don't rape', as well as a short address by Pastor Afrika Mhlophe, who will also lead a time of public prayer addressing rape and violence against women and children. The Programme Director, Pastor Russel Viljoen, will say something about NGOs that are in the field and will encourage people to get involved with them rather than to convene more meetings. Pamphlets with information about the NGOs will be distributed.
Transformation Christian Network (TCN) coordinator, Trevor Jennings says there has been a viral response to the posting of the 'She is your daughter' letter on the JUST1HR website.
"From a simple letter sent to JUST1HR on Friday morning to lunch time today more than 13 800 people are following what is happening in NM Bay. For details go to www.just1hr.org.za or www.tcn.org.za," he says in a letter sent to NMB churches yesterday.
"Come and pray and support our NGO's fight against rape. If Cairo can have a Spring then NM Bay can have Summer," he says.
The baby rape and the Donkin event coincide with the international 16 Days Of Activism Campaign (November 25  to  December 10) which is being observed in South Africa in a year that has been punctuated by some highly publicised rape attacks and some 144 reported rapes per day (according to womenforwomen.org).
The vicious gang rape and murder of Bredasdorp teenager Anene Booysen in February shocked the nation and the world and led to the Real Men March to Parliament in March. The man who confessed to raping Booysen was earlier this month given the stiffest possible punishment of two life sentences.
A 24-year-old Northern Cape man accused of raping the 6-week-old baby last week, appeared in the Kimberley Magistrate's Court on Thursday, November 26. The case was postponed to December 12 for a formal bail application. Community members held a prayer service at the Assemblies of God Church in Kimberley following the rape of the baby in Galeshewe and the rape and murder of an 87-year-old woman from the same community. Northern Cape Premier, Sylvia Lucas, National  police commissioner General Riah Phiyega, and Deputy Minister of Police Maggie Sotyu attended the service.
According to media reports, doctors who operated for two hours to save the raped and traumatised baby say they expect her to recover physically and that she will one day be able to bear children.