[notice]A monthly Christian sport column by Cobus Kruger, a professional triathlete who is passionate about evangelism, leadership and community development through sport.[/notice]
Rugby World Cup is starting this weekend. I am excited to follow this Rugby World Cup. I think it is an exciting World Cup to follow because of the simple fact that there is really no clarity about who the favourites are to win the Cup, although I think that the Boks will bring it home for the 3rd time…
I always like to go to the Bok sendoff if I can before a World Cup. It is great to see the excitement of the spectators and the focus of the players. I remember the amazement I had four years ago at the sendoff where thousands of people filled Mandela Square, Sandton, to see the Boks as they arrived for the sendoff. Black, coloured, Indian, white, all came together in their masses to support the Boks.
This year's sendoff at Montecasino seemed a bit smaller, but was also a good experience. As I stood at the side of the crowd and the Boks walked through I could not help share the excitement of a black uncle in his 70's who stood next to me. He had a little flag and managed to get the signature of a few players. He showed them to me with the excitement of a little child. A bit later when Our Captain, Jean De Villiers gave his speech, he stated that there are 20 countries that will be playing for the Webb Ellis Trophy (The Word Cup), but 19 of those 20 Countries are only playing for the trophy, but the Springboks are the only country that will play for so much more than just the trophy, the Springboks know that the winning of the trophy will bring Hope for the country…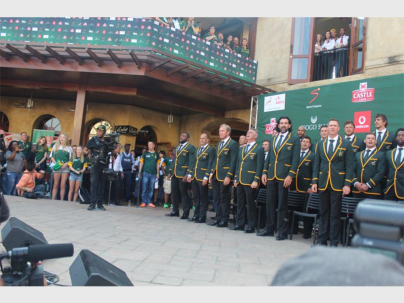 There is some truth in Jean's speech, as I must say that I also believe that big events like these can bring hope and break down racial, denominational, language and class boundaries: that is why I will keep on using the vehicle of sport to have influence wherever I go. But, for us to bring complete hope to the nation of South Africa we need to bring Jesus, to the people!!!! Jesus is the only way, truth and life!!! I want to urge you fellow believers:
don't just let this world cup pass by with an effect of bringing part time hope. Let's bring the truth of the Gospel to our fellow countrymen and women as we watch our beautiful game of rugby in public places.
Let's read the following scripture in Ezekiel 37:1-4:
The Valley of Dry Bones
"37 The hand of the LORD was on me, and he brought me out by the Spirit of the LORD and set me in the middle of a valley; it was full of bones. 2 He led me back and forth among them, and I saw a great many bones on the floor of the valley, bones that were very dry. 3 He asked me, "Son of man, can these bones live?"
I said, "Sovereign LORD, you alone know."
4 Then he said to me, "Prophesy to these bones and say to them, 'Dry bones, hear the word of the LORD! 5 This is what the Sovereign LORD says to these bones: I will make breath enter you, and you will come to life. 6 I will attach tendons to you and make flesh come upon you and cover you with skin; I will put breath in you, and you will come to life. Then you will know that I am the LORD.'"
The Rugby World Cup, and big sports events always bring a good vibe into a country, and we should enjoy that and use it for good. But if the World Cup just stays at the level of a sport event and good vibe, then it will indeed be what Ezekiel describes — a valley of dry bones… We should introduce people in this valley of rugby to Christ so that the Holy Spirit can breathe into them so that they can get true life in Jesus and an intimate relationship with God… Real Hope!
Jesus spoke to the woman at the well in John 4:13-14, saying the following:"Jesu s answered and said to her, "Everyone who drinks of this water will thirst again; but whoever drinks of the water that I will give him shall never thirst; but the water that I will give him will become in him a well of water springing up to eternal life."
Sports events like the World Cup come and go; it is worldly water, and people will thirst again. But we need to be obedient to God to bring the water to then that will become a well in them of water springing up eternal life…… Jesus— The Holy Spirit…
You see, the black uncle who was so excited about the signatures at the Bok sendoff enjoyed a great experience. But the fact is that he will lose that excitement after the World Cup. But if he accepts Jesus in His heart then the Holy Spirit will breathe life into him… True hope!! .
Last week on Tuesday I had an interesting encounter with God while I was busy with one of my high intensity running sets. For a few weeks I was struggling with some illness which caused my running form to suffer a bit. I started to struggle with my motivation to do my training sessions at full capacity. I became a bit negative and just had no "bounce" in my walk and training… But as I did that track session, and as I spoke to the Lord between my sets, the Holy Spirit told me the following: "Cobus, don't just train by default, but train in obedience to My calling and vision that I, the Lord your Father gave you…''
This was a wake- up call from God once again in my life…
I want to challenge you as fellow believers — don't just go through these days of the World Cup by default, but go through them in Obedience to God;s vision and calling on your life. Go and bring Hope, the Hope in full through bringing the Gospel to people.
We should not stand in the way of God's work in this World Cup. You can get some resources to use for your mission around the World Cup at the following link: http://engagemediahub.com/ and more at: http://www.london.anglican.org/articles/rugby-world-cup-church-resources-launched/. You also welcome to contact me for some ideas and advice if needed.
Just a final thought…. Don't just walk through things that you enjoy like sport and other things in life by default; walk through these things in your life in the calling and obedience of God….
My Program Generator (MPG) fitness training with Cobus Kruger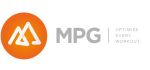 Click here for more info on how Cobus and the next generation in fitness training system MPG can help you to achieve your fitness goals in running, swimming, cycling, duathlon, triathlon, or aquathletics.