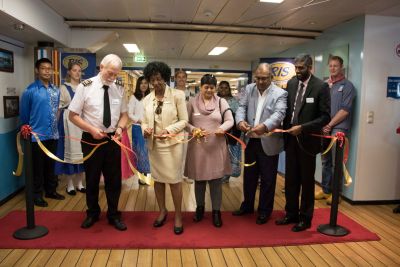 Logos Hope, the world's largest floating book fair arrived in Richards Bay this week and was officially opened to the public today.
The ship with her crew of 400 Christian volunteers from 60 nations will be in Richard's Bay — her second port of call in her first trip to South Africa — until May 17. During this time visitors will have an opportunity to buy a wide variety of books at affordable prices and attend unique on-board events including the International Cultural Festival on Saturday, May 14. The Cultural Festival is a family event featuring music, dance and songs presented by the international crew. Tickets cost R50 and are available at the Seeff office in Lira Link Road or on the ship.
Logos Hope is docked in the Small Craft Harbour, Tuzi Gazi Waterfront. Opening hours are: Sunday to Tuesday: 2pm – 9:30pm; Wednesday to Saturday: 10am – 9:30pm. The entrance fee is R5 per person; children under 12 years old enter for free, but must be accompanied by an adult.
Teams from the ship in partnership with local ministries will bring help and hope to local communities via joint outreaches. More information about the Logos Hope's programme in Richards Bay can be found online at www.logoshope.org/richardsbay
After Richards Bay the ship will visit Durban (March 17 to April 3), Richards Bay (May 5 to May 17), East London (May 20 to May 30), Port Elizabeth (June 9 to June 20) and Cape Town (June 24 to July 11).