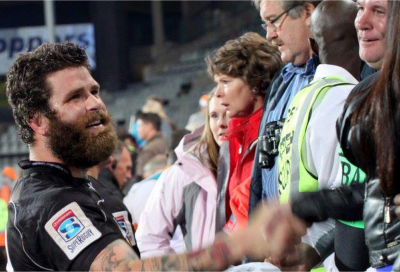 [notice]GARETH BURLEY of Kingfisher FM recently interviewed Luke Watson, captain of the Southern Kings which is battling for survival in its tough maiden year of Super Rugby. Watson answered questions about the team's Christian ethos. This is an edited version of the interview.[/notice]
South Africa's youngest Super Rugby side have earned respect for some fine performances – especially against Australian sides. But they have a mountain to climb after their most recent defeats by the Bulls and the Cheetahs, which have left them at the bottom of the competition with no guarantee that they will still be in Super Rugby next season.
Interviewed after what he called one of their worst performances – against the Bulls – Watson said the team was still as hungry as ever. He said they never had an easy weekend and could not afford the luxury of sulking and feeling sorry for themselves as they always had to get ready for the next game. And with the Super Rugby season a little past the half way mark there was still a lot of rugby to play.
Asked about his Christian faith, Watson said he and his family are strongly committed Christians.
"Our lives and the things we do in life are very much about following God and following Jesus and the example He has set in the Bible. So what we did is took the verse Luke 10:37 where it talks about the Good Samaritan and we decided in every area of our lives to try and be Good Samaritan's and so we've started a charity called Love Story [which is] just about simple acts of kindness and meeting whatever needs cross our paths."
He said that over the past few years a core group of Kings team members who are "strong Christians" have provided guidance and support to younger players.
He said the players' Christian faith has played "a massive part" in the long, hard road to Super Rugby and in the current season.
Prayer and Bible study
"We'd pray before every game, pray after every game, have Bible studies during the week and when things haven't gone our way and especially at times when we have received opposition from various sectors of the community and there's been a bit of dislike towards the Kings, we've had to pull together as a team and realise that who we are as a team and the things we want to achieve — as long as they were noble, as long as there's integrity in the process – we've got to stick to our guns and back ourselves. So the Christian ethos and culture has really been a good grounding for us and has helped us get through some tough times."
Questioned about how he and the team deal with criticism – especially after bad games – he said it was a difficult challenge for players, and was compounded by the fickleness of many supporters who wrote them off before the start of the season, then were screaming and shouting for them after they won one game, and then wrote them off again after they had a bad performance against the Bulls.
"But I have no doubt the guys will bounce back and prove the critics wrong and put in some more good performances. But to answer what you said that [criticism] is something a lot of people battle with. You start to question yourself and who you are and what you do because you get some opposition and criticism.
"For myself personally, that's something I've had to deal with a lot in my life. I've had to say 'who am I as a person?' Am I going to allow the criticism and opinion of man to affect my standing and my relationship with God and who God defines me as? You can't allow that – it must be sort of water of a duck's back."
Transforming rugby, uplifting community
Responding to an observation that the Kings seemed to remain loyal to their fans, despite some tough criticism, Watson said: "Very much so. We have a vision of transforming rugby in this province; bringing international rugby back to this province; putting Eastern Province rugby on the map and really uplifting the community in this area."
The players in their own individual capacity and as a team have been heavily involved in the community. And we look at some of the young players coming through in the Vodacom Cup, and coming through in Super Rugby and that's our goal. That's been our ambition all the time: to establish something here that everyone can be a party of, that everyone can be proud of. It's difficult at times because you get the nay-sayers, and the critics. I've always said it's easy to sit in the seat and to criticise the people who are doing the job [and] I've been guilty of that myself too in the past. But it's not always as easy for the person doing the job. So we've got to stick to our guns and the goal that we've had right from the beginning and just trust that people will jump on board."
Asked how non-Christians fitted in to the team, Watson said: "We're not an exclusive club at all. There is a strong Christian ethos. But coming along with the Christian ethos I think sometimes it's misinterpreted. Christianity is all about loving and embracing and accepting people for who they are. In our team we have people from different religions, people who aren't necessarily religious at all: and they are treated with the utmost respect and with equal love. They're equally part of everything. For me any Christian who is not embracing towards others and the differences they share — it's not really Christian at all!"
Watson ended the interview on a reflective note.
"Sometimes we can lose perspective," he said. "One of my team mates, on Monday, Ronnie Cooke, had a baby girl and he said on Saturday and Sunday he was sulking. On Monday morning he was still sulking. And all of a sudden his beautiful baby girl comes into the world and he said it just puts things into perspective.
"And to add on to that – to talk about things outside of sport, on Tuesday night myself and a couple of friends who are involved with Love Story, we served a couple of hundred homeless people  — we do it every Tuesday and every Friday — and when someone comes to you and says 'I have no father, I have no mother, I live on the streets, I have no food, I have nothing', you know sometimes as Luke Watson I look at myself and I think maybe the bad press, the bad coverage, the people sitting at home criticising and throwing their two cents worth into the mix, it's not really that big a deal when people are fighting such significant battles in life. I think perspective is something we all need and to appreciate that maybe our challenges and the things we are facing aren't quite as tough as some of the battles other people are facing."