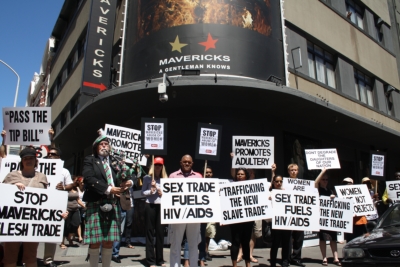 About 30 Christian protestors picketed today outside Cape Town strip club Mavericks which is embroiled in legal battles arising out of protests over its  sleazy billboards and alleged sexual exploitation of women.
With placards bearing messages such as "Trafficking – the new slave trade", "STOP Mavericks Abuse of Women", "Women are not sex objects", "Don't Degrade the Daughters of our Nation", and "Mavericks Promotes Adultery", the protestors called for Mavericks' business licence to be revoked by the City of Cape Town and for the Hawks to investigate Mavericks' possible involvement in human trafficking.
Following complaints that two Mavericks billboards portrayed pornographic imagery in public, demeaned and objectified women, and encouraged adultery, the Advertising Standards Authority of South Africa (ASA) ruled on November 25 that the billboards were offensive and had to be removed by tomorrow (December 2). Mavericks owner, Shane Harrison responded by announcing that he intended to take the ASA to court over its ruling.
Mavericks is also fighting a High Court battle over the Department of Home Affairs ruling on October 7 to revoke the club's corporate permits which it has used to import 200 foreign exotic dancers.  Revoking of the licences, for alleged breaches of regulations,  could force Mavericks to close down. At the last hearing on November 21 the case was postponed until today.
Participants in today's picket action outside Mavericks included members of Family Policy Institute (FPI), Stop Trafficking of People (STOP), Justice Acts, JOY! Magazine, Not for Sale, National Freedom Network and Africa Christian Action. Picketers graphically portrayed the physical and psychological abuse inherent in the sex industry with bruised faces (using makeup) and chains around their arms.
"Strip joints are nothing less than fronts for brothels, and exploit women, often from Eastern Europe, through deceptive recruiting, confiscating of passports, debt bondage and intimidation tactics. This means they are involved in trafficking – the modern slave trade. The strip joint and prostitution industry is in no way glamorous as it is normally portrayed in the media – women are exploited, frequently physically abused and often drug themselves to numb their abuse," said one of the picketers, Taryn Hodgson, International Co-ordinator of the Christian Action Network.
The December 1 demonstration against alleged sex slavery took place 178 years to the day, after all slaves were officially set free by the British in the Cape, says Hodgson in a report on the protest. One year earlier, as a result of the evangelical parliamentarian William Wilberforce's tireless efforts, the Slavery Abolition Act had been passed, freeing slaves throughout the British Empire.
Noting that the protest also coincided with World Aids Day, Hodgson reports that Health Minister, Aaron Motsoaledi said: "It is mostly men who contract the Aids virus and infect their wives or partners." Research indicates that the majority of men who use prostitutes are married men. These men contract sexually transmitted diseases elsewhere (STD's) and infect their wives – which is a form of violence against women.
Consequently, the sex trade is a major contributor to the spread of HIV/AIDS in South Africa.
"Shane Harrison, the Mavericks owner is currently engaged in a High Court battle with the Department of Home Affairs to allow the strip club the right to continue importing foreign strippers into South Africa using false information and documentation. Mavericks have repeatedly violated the conditions of its corporate permits and have lost track of the women in its employ," says Hodgson.
"We therefore call on Government to revoke Mavericks corporate permits and business license to end its sexual exploitation of women and its blatant flouting of the law."
FPI  director Errol Naidoo says in a newsltetter this week that the ASA ruling against the Mavericks billboards was precipitated by the actions of several Christian citizens.
He notes that the ruling coincided with the launch of the "16 Days of Activism of No Violence Against Women and Children."
" I used the opportunity to call on government to introduce legislation that outlaws the sexual objectification of women in the media and to revoke Mavericks business license," he said.
"I will be writing to all three levels of government in South Africa to introduce legislation that prohibits the harmful sexual stereotyping and objectification of women in the media.
At the same time FPI is working with the Department of Home Affairs and the Films and Publication Board to filter Internet pornography in SA and prohibit its broadcast on national television."