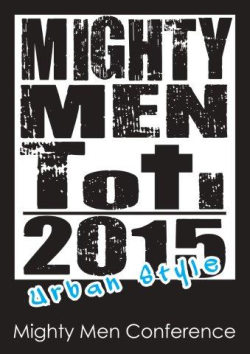 Following the massive success of the 2014 Mighty Men Conference held in Amanzimtoti, another has been planned this year for October 9 to 11 at Kuswag High School fields.
More than 700 Christian men of all denominations benefitted from last year's 'urban style' conference where they interacted in a relaxed and inspiring environment.
"The committee members see the event growing from strength to strength," said event organiser, Freddie van Vuuren. "The committee members have a long-term vision and their hope is to grow this event year after year."
He explained that the overall vision of the conference is to re-focus men on their responsibilities in their house, churches, communities and workplace.
"The Mighty Men Conference aims to change the life of men, their families and communities," said Van Vuuren.
Attendees to this year's conference will be treated to a talk by Mighty Man movement founder Angus Buchan.
Other guest speakers at the three-day conference include Pastor Ferdie Warwick and international speaker and author, Takalani Mufamadi. Mufamadi is the senior pastor of Grace Tabernacle Church in Austerville, Wentworth.  He is also the third General Overseer of the Full Gospel Church of South Africa.
Two workshops will be held between the speakers to reinforce the messages put across by the guest speaker and to emphasise the responsibilities of men.
Tickets for the event will go on sale in August at a cost of R100 which covers camping for the weekend and access to all four services. A day pass is also available at a cost of R100 and tickets will be on sale each day at the gate.
The Sunday service is open to all men, women and children, free of charge.
The MMC committee is also hosting a fundraising golf day at Umdoni Golf course on August 2. The cost will be R300 per person which includes a golf cart and refreshments at the halfway house. Anyone interested in participating in the golf day, or supporting with prize or hole and tee sponsorship, can contact Freddie on 082 941 2944 or Deon on 061 426 3243.