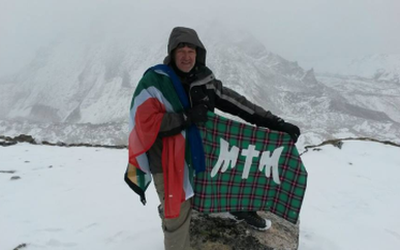 Praise the LORD, my soul,
and forget not all his benefits— (Psalm 103:2)
An adventurous South African pastor who survived an earthquake, an avalanche, an asthma attack and a flood scare on Mt Everest in April said God's Word made a mighty difference during the ordeal.
Pastor André Venter, 57 of City of Hope Church (COH) in Kimberley was part of a group of climbers, including COH Associate Pastor Harry Hurndall, 55, who were at Gorak Shep, a Sherpa settlement about 180 metres below Everest Base Camp when an earthquake that measured 7.8 on the Richter scale struck Nepal. About 20 people in Base Camp died in an avalanche triggered by the quake.
Venter and Hurndall who had climbed Mt Kilimanjaro the previous year were climbing Everest for the adventure of a lifetime and to raise funds for Christina Kiddie Children's Home in Kimberley: they raised nearly R43 000 through the expedition, says Venter.
God's timing
God's timing played a pivotal role in the pastors' mountain experience. Bad weather delayed their flight to the mountaintop airfield at Lukla where they began their 8-day ascent.
"If we had left one day earlier we would have been in the eye of the avalanche," says Venter.
Again timing was critical when Venter wanted to press on to Base Camp but his climbing partners insisted on having lunch in a cottage in Gorak Shep. The earthquake struck during their lunch break.
"We heard this horrific rumbling and the whole building just started shaking. I think it was the most horrific experience I've ever had. I've been sucked down into rapids while paddling but it was nothing like this," says Venter.
"Everything seemed to be out of control. It felt as if we were in one giant bowl of jelly. Everything was shaking and you tried to grab on something but everything was moving and it seemed as though the mountain peaks were going to crash down upon us."
A few minutes later their agent called on a satellite phone to tell them there had been an earthquake. After the call, Venter and one of his fellow climbers were standing outside reflecting on what they had just experienced when the avalanche arrived.
"The next moment horrific, weird noises started emanating from the mountain — almost like a sci-fi movie — and I looked up the Khumba Valley which is the way you ascend Everest, and all I saw was this great, grey cloud of what was probably just snow and ice but full of boulders and rocks. And praise God that we were on the side of the Khumba Valley because if we had been in the centre we would have been wiped out. All I remember doing is diving into the snow and putting my backpack over my head and really praying and trusting God."
Venter says he wondered how long he would remain there and how he would get out from under the snow which continued to fall as it had done for days. Then his thoughts turned to Psalm 103 which God had laid on his heart throughout the 8-day trek.
God's benefits
"Psalm 103 says do not forget all His (God's) benefits. In hindsight I realised God was saying I needed to call on His benefits and that's exactly what I did. I began to call on Him and say: 'You know I am a favoured child. You have so much purpose left for me and I am not going to just lie here and try and survive. ' The next scripture that came to me was amazing ; Rom 8:37 which says we are more than conquerors. Many thoughts were rushing through my mind. Psalm 119:11 speaks of hiding the Word in your heart — and I think if the Word was not hidden in my heart I would have just tried to survive. But because of the Word, I knew I was more than a conqueror. Nowhere in the scriptures does it ever say we have to survive; it says we are more than conquerors. We are here to be victorious. And I think and I believe that that is what got me through the avalanche. I remember the snow packing up on me and lying there and seeing pictures of my wife, children, grandchildren passing by: these are some of my benefits, having this beautiful family around me; knowing that I'm not here to succumb to this situation; I am here to conquer this thing."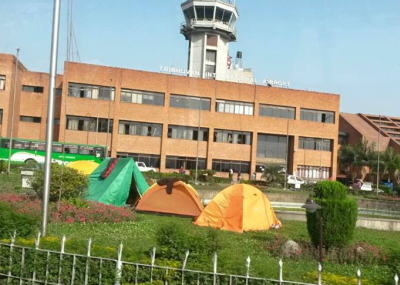 When he got up he told his companion that it was a miracle they were alive. At the time he did not know of the climbers who had died as the avalanche tore through Base Camp above them. His other team mates came out of the cottage whose doors and windows were flung open and even burst off their hinges by the force of the wind generated by the avalanche. The cottage walls, floors and ceilings were instantly iced up.
Their Sherpa guide wanted the group to start descending but Venter pointed out that they did not know how stable the mountain was after the earthquake and avalanche and they had lost their satellite phone. He said they would not go anywhere until they had inquired of God and he and Hurndall started praying. Venter said that from that day on the other two tourist members of their group, who are Indian nationality Hindus who lived in Australia, said "whatever your God says we will go with".
Beauty and power
He says God gave them a peace to stay put until the next morning. Calling on their "benefits" as believers they prayed:"Dad we need some sleep. We did not get much sleep the day before and today has been pretty stressful."
They retired with their boots on and their kit ready and slept until 23:40 that night when they were woken with the building shaking violently during a second major tremor. They ran outside and were struck by what they saw. The snow had finally stopped and the sky was an incredible indigo blue streaked with silvery stars and framed by white peaks. In the immediate foreground their building was destroyed. They were overwhelmed by the beauty of nature and the power of nature. It started snowing again at about 4:30 and the temperature was below minus 20 degrees. They had some porridge and prayed for a word from the Lord. By about 7:00 they saw some injured climbers making their way down from Base Camp.
They decided they would have to descend and so they planted the two flags they had brought with them — the South African flag and the Mighty Men Tartan which had been given to Venter by MMC Western Cape Chairman Piperjames McGowan when they had met at a Bikers Church conference in Cape Town. It was a hurried and sombre descent as they learned of the climbers – including a South African woman of 28 — who had died at Base Camp. A heavy snowfall limited visibility and an hour into the descent Venter suffered a sports induced asthma attack and fell down in the snow. He got a Sherpa guide who was walking behind him to find his special altitude asthma pump in his pack. He also took a heavy dose of medication which helped him keep going but induced hallucinations.
After two days they reached the picturesque mountain village, Namche Bazaar, which had also taken a knock. There they learned that the natural walls of a mountain lake could burst that night posing a drowning risk in the valley they had to descend. They managed to get a ride on one of the last rescue and recovery helicopters to Lukla where they were confronted with the grim sight of body bags strewn on the runway. The weather was bad which meant no flights, but after they prayed the heavens opened enough for three flights to arrive. They left on the last small plane flight to Kathmandu and the weather closed up again.
Kathmandu was like a horror movie set as half the city was destroyed. They got to stay in a five star hotel that had been booked by their Australian friends who had been flown to Delhi by the Indian Government. It was comfortable but there was no electricity, aircon and very little food.
One of last boeings
"Again through God's grace, we got one of the last boeings out of Kathmandu before they closed the airport because the runway had been cracking up."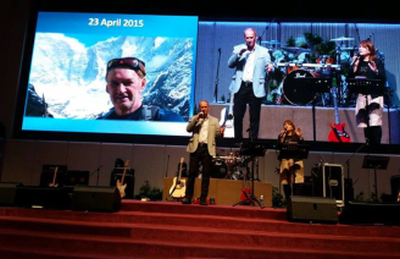 Since returning from Nepal Venter says he has had many opportunities to testify about his experience. In June he amazingly got to preach at a conference in Malaysia the day after a major earthquake which claimed 16 lives through rock slides on the nation's highest mountain. A traumatised student who survived the mountain quake was at the service. That day Venter says he and his wife, Desiré, together with other pastors at the service got to minister to many people "in a nation that was mourning and grieving and not understanding what was happening to them".
Mighty Men Western Cape
Venter will also be sharing his mountain testimony at the MMC Western Cape in Malmesbury in September.
"I am very excited about the MMC which I think is going to be one of those amazing divine appointments with God and His people. I have come to realise that a lot of our people in SA – especially men — have lost hope and I think when you are going through a crisis you tend to seek God more so than when things are comfortable.
"I believe God is going to use every one of the MMC speakers to stir up flames of faith again. We must desperately hold onto the promises of God and not allow our circumstances to dictate to us. I can go back to circumstances I have been in and to lying under the snow during the avalanche and wondering 'God am I really going to get out of here?' and then realising that I have the benefits of knowing God — that I can call on those benefits and I am not only going to survive but conquer because we are more than conquerors. That's the hope I can give the guys."