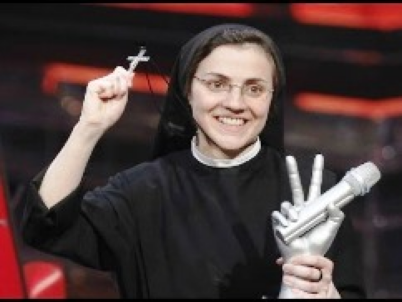 Originally published in Breaking Christian News
Is any music beyond redemption, if one's purpose is to worship the Lord?  
That question may open a much larger discussion. But, one simple example of taking a song meant for another purpose altogether, and using it to bring glory to God is that of Sister Cristina Scuccia.
Otherwise known as "the Singing Nun," Sister Cristina rocked Italy's pop music scene when she won that country's singing competition, The Voice, this year.
Her first single is certainly turning a few heads, as she covered Madonna's "Like A Virgin," making it a current, yet reverent worship song of testimony to the redeeming love of Jesus.
Of course, the chorus lyrics of "like a virgin" were meant as a literal depiction of Cristina's vow of dedication of her life to the Lord as a nun.
Sister Cristina said in an interview with Avvenire, that the cover was her idea, but that it is meant "without any intention of being provocative or scandalous." She added that the lyrics—despite Madonna's interpretation—can be a description of "love's ability to renew a person and rescue them from their past."
Cristina adds that she is happy to bear witness to her faith, and describes herself as a "religious sister… who wants to tell everyone the joy of having found Jesus through the gifts that He gave me. I would like everyone to discover how much He loves us and how creative He is with each of us."
Her victory on The Voice and any revenue from her new album will reportedly not go to Sister Cristina as she has "taken a vow of poverty." She notes that any money will be used to "help the projects of our religious community."