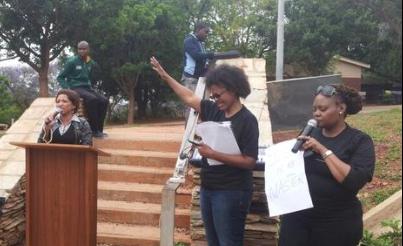 Christians opposed to Lady Gaga performing in South Africa handed a memorandum to the Department of Arts and Culture in Pretoria today requesting the Government to prevent the pop star from visiting the country, said SA Council of Churches Youth Forum President Vuyani Pule.
He told Gateway News that the memorandum in which Gaga is described as a satanist whose presence would promote social evils that Christians and other South Africans were fighting, was well received by the department officials who said they were not aware that Gaga's visit had negative connotations. The controversial performer whose performances are known for featuring obscenity and occult symbolism has concerts scheduled in Johannesburg on November 30 and Cape Town on December 3.
Pule acknowledged that the turnout at today's protest outside the department was small — about 10 people attended. However he said that today's event was the start of a process which the SACC Youth Forum was mobilising in partnership with Global Christian Unity. He said the process would include a national petition campaign, protest action in Cape Town, appeals to the concert organisers to be responsible and stop the tour, and meetings with senior government officials.