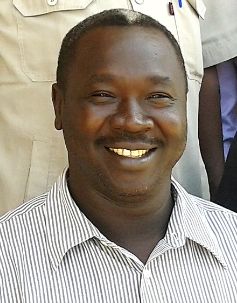 Originally published in World Watch Monitor
A Sudan church leader who spent Christmas 2015 in prison on charges of spying before being freed after 19 days due to lack of evidence, was re-arrested last week, along with five other church leaders.
Those arrested belong to the Sudan Church of Christ (SCOC) and include its head of missions, Kuwa Shamal, who had been arrested on December 15 2015, with three others, on several charges but was released on January 2.
The two others arrested in 2015, Hassan Taour and Abdulmonem Abdumawla, were eventually released in May after the Czech aid worker Petr Jašek was set free in February following an intervention by his government and the EU Envoy on Freedom of Religion or Belief.
This is at least the third time that Shamal has been arrested, having also been detained in May 2016.
The others arrested, for a day, last week were the SCOC moderator, Rev Ayoub Mattan, the finance secretary Abdulbagi Ali Abdulrahaman, the deputy finance secretary El-Amin Hassam Abdulrasool and the church leaders Yagoub Naway and Musa Kodi.
Two days previously, two other church leaders from Omdurman had been evicted by police from their homes, with one of them arrested for trespassing after allegedly entering his own office. They were released on bail later that day, 21 August.
Yahiya Abdel-Rahim Nalu, the church's moderator, and Sidiq Abdallah, a pastor, were reportedly living in houses owned by the Sudan Presbyterian Evangelical Church (SPEC).
The police evicted them to help a Muslim businessman, Hisham Hamad Al-Neel, to take over the church property, after claiming that he owns the asset for investment purposes.
'The situation is very difficult, we are living in the street,' Nalu told Radio Tamazuj.
Their cases follow a long series of others in which authorities have continued the gradual confiscation of properties belonging to, among others, the SCOC and SPEC in Bahri (Khartoum North) and Omdurman.
In June, Sudanese church leaders sent an open letter to the government.
On April 26, police and an armed mob occupied part of the SPEC compound in Omdurman. It was the same location where, earlier that month, two church members were stabbed during a protest against appropriation of a school.
The arrest of Kuwa Shamal and other leaders of the SCOC followed the arrival of an illegally-convened rival committee, which had a letter from the Ministry of Religious Affairs dated August 14, in which the committee asked police to help them take over the SCOC offices. When the leaders refused to hand over the property, they were arrested.
The church leaders were released on bail a few hours later and still wait to hear if there will be further legal action.
The evangelical leaders are appealing the case.
In an interview in mid-June, Mariam Ibrahim, who was condemned to death for her Christian faith in Sudan in 2014, told WWM that the "Sudanese government says it respects freedom of religion, but it does not".
On Thursday the new head of USAID, Mark Green visited Khartoum to assess how far Sudan is meeting obligations ahead of the October 12 deadline by which the US will decide on whether or not to lift sanctions imposed for lack of progress on measures to attain sustainable peace, as well as more progress on human rights.