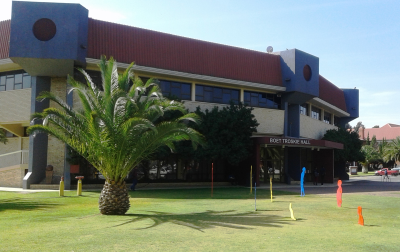 Christian and corporate leaders in South Africa and neighbouring countries are getting behind the vision for a National Day of Repentance (NDR) in Bloemfontein on September 13, says NDR Communications Manager Rebecca Cantor.
"We stand amazed at the doors that the Lord has opened in the past few days, having spiritual and corporate leaders such as, Angus Buchan of Shalom ministries; Monty Mabale, Chairperson for the South African Council of Churches; Linda Gobodo of Vuka Africa; Retah Mc Pherson; Dr Eva Seobi of Family Preservers Project; Rebirth of Africa House; Patrick Kuwana of Crossover Transformation Group; Cornelis van Heyningen from Our Father's Home and Creare Training in Bloemfontein — to name a few —  endorsing this day and sharing the vision for all to see," she says.
The event which aims to lead the nation in repentance and reconciliation will take place on September 13 from 12:30 to 15:30 at the Boet Troskie Hall on the campus of the Central University of Technology (CUT), Bloemfontein. Tickets to the event will be available from August 12 through itickets.co.za.
The event will be documented by Watchmen on the Wall and broadcast on Faith Africa — Dstv Channel 341 on September 22. A recent interview by Errol Naidoo of Watchmen on the Wall of  Pastor Elisee Yao and Arno V Niekerk who shared their heart and vision for the day can be seen from August 18.
The NDR is not about declaring each other's faults or mistakes from the past, but about acknowledging that we need God to come and heal our land, says Cantor.
She says: "Every South African that answers YES to any one of the three following questions should endorse this day by going to www.repentance-sa.co.za :
Is it time for change in SA?
Do we as citizens of SA need to stand united?
Do we need God to save our beautiful country, SA?"
She says the aims of the NDR relate to the verses in Amos 5:12, 14-15 "For I know your many transgressions, and your many sins: distressing the just, taking of a bribe, and turning aside the poor in the gate. Seek good and not evil, that you may live; and so the Lord, the God of Hosts shall be with you, as you have spoken. Hate evil, and love good, and establish justice in the gate."
The aims of the NDR are: 
To see the Nation healed and transformed, and the different components of our society living in Peace and worshipping the One and only true God.
To see the Church stand up and take her position as the Prophetic voice in the Nation, working together for the advancement of God's Kingdom and bringing restoration in SA.
To compile a document and submit it to Government to be:

Implemented and taught within the Schools, to teach the youth how to live in unity with one another from an early age. This document will be based on a Godly lifestyle: that is to love one another as you love yourself. To respect others as you would like to be respected. To do unto others as you would like others to do unto you.
A proposed guideline document for the Government with regards to implementing policies, values and standards in the Nation based on Righteousness and Justice.