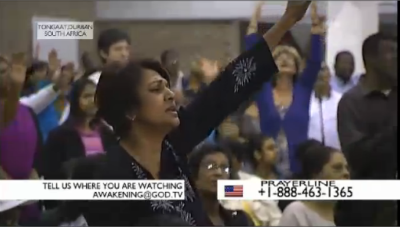 After nearly three weeks of meetings the 'Great Awakening Healing Revival' continues to gain momentum in Tongaat, KwaZulu-Natal and evangelist Todd Bentley has extended his meetings indefinitely, reports GOD TV.
The international Christian television network has been airing the Revival live each day since April 12 and viewers from all over the world are flying to South Africa to attend. In addition to the many testimonies of  healing, including some that have been medically verified, people from different religions are committing their lives to Christ, says GOD TV Global Communications Officer, Al Gibson. Thousands of first-time commitments to Jesus have been made at the meetings.
GOD TV has received more than 10 000 prayer requests and thousands of prayer cloths have been prayed over by GOD TV founders Rory and Wendy Alec and Todd Bentley. Church congregations in South Africa and overseas are watching on large screens and GOD TV has about 1 300 registered living rooms where groups of people are tuning in to watch together in homes. One of the living rooms is in Japan — a first for GOD TV.
"We have had about 19 meetings, and no meeting has been the same," said Todd Bentley. "Each day there is an anointing for something different. We're experiencing God's goodness and moving into a season of divine favour. We're staying on in Durban indefinitely and encourage people to come and join us."
"Revival is all about Jesus," said Wendy Alec, who is hosting GOD TV's LIVE broadcasts along with her husband Rory and other members of the GOD TV team. "Revival is about the compassion of Jesus for the suffering. It is not just about renewal, it's because Jesus cares!"
Information about how to tune into GOD TV, find out the broadcast times for the revival meetings or how to get to Tongaat, KwaZulu-Natal are available on www.god.tv