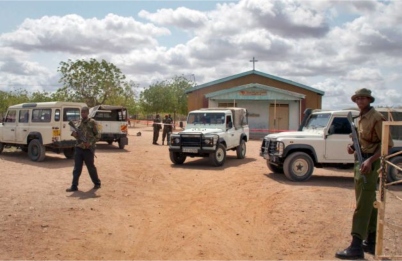 Barnabas Aid helping victims
By Compass Direct News and barnabasaid

Attackers with guns and hand-grenades killed at least 17 people and wounded scores more during worship services at two churches on Sunday in Kenya.
Three of those killed were children. Two were police officers standing guard over one of the churches.
Both attacks occurred in Garissa, a provincial capital about 193 km west of the Somalia border. Suspicion for the attacks immediately fell upon al Shabaab, a Somalia-based militant group that western governments say has links to al-Qaida, but authorities have not officially named any suspects.
Garissa is a military staging point for Kenyan operations into neighbouring Somalia. Kenya sent troops into Somalia last October to hunt down al Shabaab militants believed to have been behind kidnappings and other acts of violence within Kenyan territory. Since then, Kenya has been hit by a series of grenade and bomb attacks, the suspected retaliatory work of al-Shabaab.
A Barnabas Aid contact in Kenya said that the death toll following Sunday's church attacks is likely to rise, as some people were very seriously injured. He said that the police guards had been negligent, failing to take seriously the threat to the church. Barnabas Aid reports that it has sent an emergency grant to help meet the needs of Christians affected by the attacks. It is being used to buy bandages and medicines for the wounded, and also food for families.
"Our partner is also looking into how security can be improved at church buildings in the area in light of a number of recent anti-Christian attacks," reports the mission organisation.
The first of the attacks on Sunday began at about 10.15 am at the Africa Inland Church, where Christian worshippers were attending services. Published news reports differ on the specifics, but between two and four men approached the church, and shot the two police officers. The attackers took the officers' guns, and two grenades were thrown into the church. Reports differ on whether either grenade detonated, but they agree that gunmen entered the church and began to fire.
Several of the victims may have been shot as they fled from the church. News accounts differ, but as many as two gunmen waited outside the church to shoot at people as they ran out of the simple wooden building.
Several of the 17 people killed died at the scene. Others died while receiving treatment at the scene or in hospitals. Of the 17 killed, eight were said to be women, and three were children. Two were the police officers, who were on guard as a precaution against militant Islamists, who have targeted Christian churches in several African regions.
The second attack occurred about 3 km away, at a Catholic church. Hand-grenades were lobbed at the church from a moving vehicle, causing serious injuries to at least three people. No fatalities were reported in the second attack.
The Kenya Red Cross said at least 75 people were injured in the two attacks. The number of victims overwhelmed regional hospitals, and several of the most seriously injured were airlifted to hospitals in Nairobi, the Kenyan capital.
Kenyan President Mwai Kibaki said he intends to direct "a thorough investigation concerning this futile terror attack on churches."
The Sunday attacks drew condemnation from local, Kenyan and international authorities.
"I condemn the attackers with the strongest terms possible," said police commander Philip Ndolo.
"All places of worship must be respected," said Abdulghafur El-Busaidy, chairman of the Supreme Council of Kenya Muslims. "We want to send our condolences, and we are sad that no arrests have been made yet."
Visiting Garissa on Monday, Kenya Prime Minister Raila Odinga said militant Islamists are targeting churches as a ploy to bait Christians into anti-Muslim reprisal attacks and create a false context for Christian hatred of Muslims.
"We are more intelligent than that," Odinga told the Voice of America. "This is not a religious matter, this is a group of terrorists who are resorting to these kind of desperate measures because of the progress being made by our troops in Somalia." Kenyan forces have been battling al Shabaab in Somalia since October 2011.
In the United States, the White House press office said the attackers "have shown no respect for human life and dignity, and must be brought to justice for these heinous acts."
"At a time of transition, peace and stability are essential to Kenya's progress. We support those who recognize Kenya's ethnic and religious diversity as one of the country's greatest strengths."
Such assurances are of little practical comfort to Ibrahim Magunyi, pastor of the East Africa Pentecostal Church.
"The government has stepped up security in Garissa and posted policemen to guard the Church faithful," Magunyi said. "But these attackers have now come into open to attack the Churches in Garissa."
In April, an infiltrator at a church in Nairobi threw a grenade into the congregation, killing one person and injuring 15. Two Christians were killed and around 50 wounded when Muslims threw a grenade into an open-air Christian gathering in Mtwapa, near Mombasa, on 31 March.
Garissa was the site of another anti-Christian attack last November; a suspected al-Shabaab grenade attack on a church compound there left two dead and three injured.
Barnabas Aid has posted details at the end of its report on how people can make donations to assist  victims of Sunday's attacks.