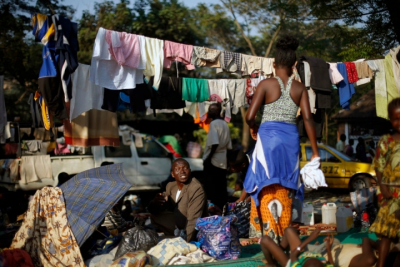 Originally published in Christianity Today
Fighting broke out once again between rebel groups in the Central African Republic last week and reports suggest that almost 1,000 people have been killed.
The clashes took place between members of Seleka, a predominantly Muslim rebel coalition, and anti-Balaka (meaning ani-machete) groups, which are largely made up of ex-Seleka members, villagers and former members of the national army.
These groups appear to be using retributive violence in a bid to stop the Seleka militia responsible for thousands of deaths from killing any more civilians.
Seleka took power in a coup in March, installing leader Michael Djotodia as President of the CAR. He later officially disbanded the rebel coalition, but many refused to disarm and began sectarian murders and looting and burning villages.
Violence intensified on 5 December, when armed anti-Balaka groups declared an invasion of capital city Bangui.
Muslims in the district were then reported to have begun destroying property belonging to non-Muslims, and some reports claim that members of Seleka began door-to-door searches for men, killing those they were able to find.
Confirmed victims include a pastor of an Elim church and his grandchildren, and local reports say his children have also been abducted by Seleka members.
Attacks on Christians in particular continued over the weekend. Families with young men were targeted and many civilians are now seeking refuge in church buildings and Bangui airport, while some have chosen to hide in the bush.
The Red Cross reported a confirmed 400 deaths in Bangui on 9 December, but eyewitnesses have disclosed that there are a huge number of unburied or uncollected bodies across the city, indicating that the likely fatality rate is closer to 1,000.
The UN Security Council has responded quickly to the escalating violence, approving a proposal on 5 December to increase the numbers of French and African Union troops in the CAR and giving them a mandate to disarm militia groups.
However, unfortunately the road to peace is proving to be complex. On Monday 9 December, two French paratroopers were killed in Bangui in a clash with unidentified men.
Although the anti-Balaka groups are generally described as Christian militia, their actions have been condemned by the Church in CAR, which is calling for peace and reconciliation. Church leaders have been working together with imams in a bid to restore peace and achieve reconciliation between faith communities.
Christian Solidarity Worldwide has released a statement condemning the killings in Bangui, labelling them as a "widespread violation of human rights, including freedom of religion or belief".
"We echo the call of the Church in the Central African Republic for peace, and urge both sides of the conflict to embrace reconciliation and co-existence. The restoration of security is paramount, as is the need to combat impunity," says Chief Executive Mervyn Thomas.
The organisation has welcomed the UN's decision to increase troop numbers in the CAR, and is calling for further investigations into the violation of human rights in order to bring justice to the perpetrators.
"We also urge UN member states to ensure that the international forces are sufficiently resourced and to respond swiftly to the worsening humanitarian crisis in the country," Thomas added.