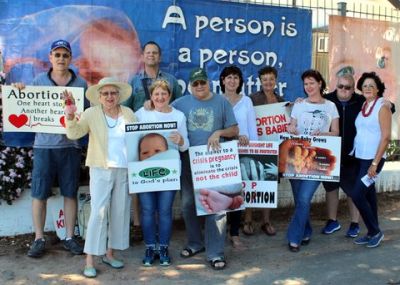 Global pro-abortionists proclaimed September 28 as an annual International Safe Abortion Day. In contrast to the almost 1 600 Life Chains held globally on, or near, to October 7, pro-abortionists could only muster a handful of protests on September 28.
Up to a million Christians worldwide took part in the various Life Chains this October 7, International Life Chain Sunday. A National March for Life, organised by the National Alliance for Life, took place in Umhlanga, Durban, with about 1 800 marching.
About 80 Christians formed a Life Chain to proclaim the sanctity of life in Cape Town last Sunday. The Life Chain in Cape Town took place on the centre island of Buitengracht Street (near the entrance to the Waterfront). Life Chains also took place in  Bloemfontein and East London.
The Life Chain is an international prayer rally and peaceful placard protest against the abortion holocaust.

The Christian Action Network estimates the number of babies killed by legal abortions since 1997 to be well over 1 500 000. The number of legal abortions is believed to be higher than the official figure due to outstanding statistics from some provinces in previous years and a possible failure of some hospital officials to accurately record abortions in state hospitals.
Illegal abortionists operate with impunity in virtually every city and town in South Africa due to the failure of police and city officials to investigate or make any arrests. The Department of Health estimated that there are 38 illegal abortions per 1 000 women (report in Sowetan Live, June 12 2012).
The Christian Action Network urges pro-lifers to lay charges against illegal abortionists at their local police station. A form detailing how illegal abortions violate both the Termination of Pregnancy Act and Medicines Act has been drafted for this purpose and can be downloaded here.
Pro-life groups uphold the sanctity of life – that every life is valuable to God. Over 70 crisis pregnancy centres, mothers homes and baby homes across South Africa provide women with loving alternatives and practical support, not just one choice – abortion – that pro-abortionists coerce women into choosing. Doctors for Life and many other Christian groups each care for hundreds of orphans.
Since 1987 Life Chains have been held in the USA, and since 1992 Africa Christian Action has organised Life Chains in South Africa. This was the 27th Life Chain held in Cape Town.