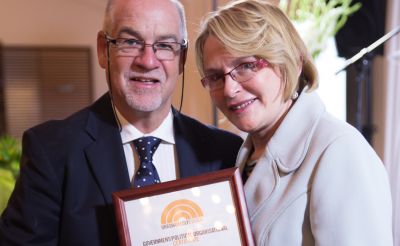 Unashamedly Ethical health professionals community launched
Helen Zille, the Premier of the Western Cape, came face to face with the taxi leaders she once clashed with. She reminisced about the last time she and the taxi leaders met. "Do you remember when I came to Nyanga how I had to duck behind a taxi while you were shooting at me?"
She was speaking at the Unashamedly Ethical gala dinner on Tuesday, April 16, at Christo Wiese's Lourensford Estate in Somerset West.
The evening was dedicated to the public pledges of the Western Cape provincial cabinet and the two largest Western Cape taxi associations, CATA and CODETA, to the Unashamedly Ethical campaign. The evening also launched the Unashamedly Ethical health care professionals community.
At the start of the evening the two newly-nominated patrons of Unashamedly Ethical, Anglican Archbishop Thabo Makgoba and Dr Michael Cassidy, the founder of African Enterprise and honorary lifetime president of Lausanne, each expressed their delight to be associated with Unashamedly Ethical and urged people to commit to the campaign for ethics in South Africa.
God is still at work in South Africa.
The Western Cape government is the first government institution in South Africa to adopt the Unashamedly Ethical challenge to commit to values, ethics and clean living. It is also the first time that senior leaders in the taxi industry, which is known for human rights abuses, underhand dealing and disregard for the rule of law have committed themselves to ethical living.
The evening was not only about ethics and values, but also about forgiveness and reconciliation.
In her short address, Nosapho, Mrs Zille's isiXhosa name, recalled vividly the years of violence and killing in the taxi industry. "How many of you leaders here today were part of WCBTA [Western Cape Black Taxi Association]? Those were bad times."
Mr Mabayo from CATA remembers how bad things were: "We spent the whole of 1991 living in the bushes, away from our homes, afraid to be killed. Today we are having dinner in a beautiful place and we are treated as humans – all because of our association with this campaign."
WCBTA was a sworn enemy of LAGUNYA (Langa Gugulethu Nyanga Taxi Association). Today the two organisations are known as Cape Amalgamated Taxi Association (CATA) and Cape Organisation of Democratic Taxi Association (CODETA). They formed a joint self-regulatory committee, made of 15 senior leaders from each side, to maintain cooperation, unity, peace and deal with conflict.
The members of this committee were at the Unashamedly Ethical gala dinner and are signatories of the campaign.
Dr Eleanor Meyer and Elizabeth Myburgh have been working with various doctors and other medical professionals (such as nurses, physiotherapists, occupational therapists and the like) to establish a community of likeminded persons who will hold one another accountable to offering appropriate, affordable, and ethical care to patients.
Speaking at the dinner Elizabeth Myburg urged her colleagues, "We must be careful not to over-treat our patients. We mustn't just give our patients another tablet."
Dr Eleanor Meyer broke down into tears as she reminded her peers, "We must care about our patients who are living in the worst conditions. Let's also remember why we wore the white coat … it is a symbol of cleanliness inside and outside."
South Africa's Corruption Perceptions Index rating has dropped by an average of 10 points per year on the Transparency International global ranking (from 54th place in 2010 to 64th in 2011, and 69th out of 173 countries in 2012).
A few weeks ago at the Exposed2013 campaign launch in Cape Town, I asked Dr Goodwill Shana, the spokesperson for the Zimbabwe Anti-Corruption Commission, if the Christians in Zimbabwe were despondent about the state of affairs in Zimbabwe. His reply warmed my heart, "We are not despondent. We are the church and we offer hope to the world."
Unashamedly Ethical has taken the fight against corruption head-on through its bold statement. "We are Christian. We challenge individuals and organisations to sign a pledge to be unashamedly ethical; we connect them through an online directory; and hold them accountable through an ombudsman."
The master of ceremonies at the gala dinner was Dr Michael Mol, himself a signatory of Unashamedly Ethical and a member of its health care professionals community.
The hosts and crew of Watchmen on the Wall were at the gala dinner to cover the event and interview the government, taxi, business and church leaders. Watchmen on the Wall airs on TBN Africa, on DStv channel 341 on Tuesdays at 8pm.