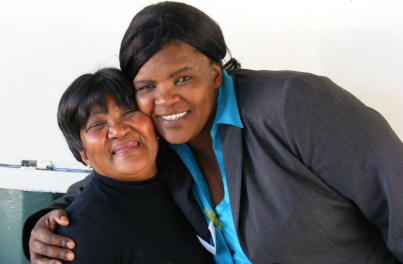 The United Care Centre at Kleinskool, Port Elizabeth was abuzz on Women's Day, today, when about 150 women from different congregations came together and cried out to God for peace in the area. This came after revenge killings between gangs flared up recently, despite a peace agreement which was negotiated through the local churches not too long ago.
"It's only through prayer that peace can come back," said Ruth (Stompie) Mcinga, one of the organisers of the event. "And the women are the ones who gave birth to these children. They must be the ones to pray for them."
Guest speaker, Sharon Chasa from Clarkson, gave hope to the women as she shared how God saved her from a life of prostitution and being a gangster, to freedom in Him. "I believed that prostitution was who I am, that was what I was worth. But Jesus gave me a new identity, a new life. And if He could do it for me, He can do it for you or for your children," she said.
She also reminded the women of their responsibilities, as often children turn to drugs, alcohol and the gangsters, because their mothers are not available when they need love and acceptance.
And God showed His grace in the weather. Despite heavy showers the previous days and in the early morning, skies were clear by the time prayers started.
The event ended with women washing their hands as a symbol of their gratefulness for being washed by the blood of Jesus. Soup was served afterwards.