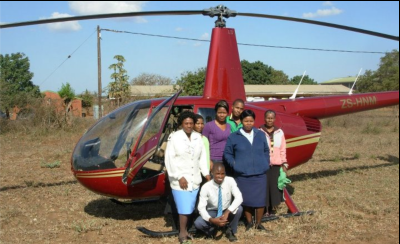 The air over the Makathini Flats was filled with the distinctive sound of an approaching helicopter on Wednesday last week (July 25) on the day that marked the start of  Zululand Mission Air Transport's (ZUMAT') HeliClinics Program.
A crowd of people from this remote area in northern KwaZulu-Natal came outside to view the aircraft landing and for many this was their first sight of a helicopter.
Pilot Etienne Gerber flew from ZUMAT's base in Hluhluwe and collected Dr Nqobile Ngubane from the newly cleared landing zone right outside the gates of Bethesda Hospital, and then flew her to Madonela and Makathini Clinics. The flight from Ubombo to Madonela took 15 minutes whereas travelling the same route by road would have taken up to an hour; and the route from Madonela to Makathini took 5 minutes, as opposed to 25 minutes by road.
These remote clinics have not been serviced by ZUMAT's flying doctor service since 2005 due to the poor condition of the runways, prompting ZUMAT to include helicopters in its operation. Helicopters offer a faster and more efficient flying doctor service as there is no need for a runway and they can land close to the clinics and hospitals.
Gerber said: "It was an amazing experience to be able to take Dr Nqobile Ngubane along for the first HeliClinics flight to the Madonela and Makathini Clinics. We both thoroughly enjoyed being able to access the clinic more easily and serve the community better. The helicopter operation has been a long-standing dream for ZUMAT, and it was very special to be part of this historic day"
ZUMAT plans on flying to two clinics weekly, which will enable them to assist the doctors in consulting between 450 to 630 patients. The cost for the August programme amounts to R30 000, of which they have already secured R5 000. Further information on Zumat's services and on how to support them financially is available at www.zumat.org.za or www.heliclinics.org.za.