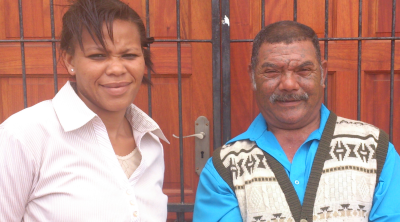 For two and a half years, Ken Langford, sat paralysed at home planning the day that he would take revenge on a young man whose drunken driving 'ruined his life'.
The accident that cost him his mobility happened in December 2008 right in front of his house in Salt Lake in the Northern Areas of Port Elizabeth. He was standing on the pavement talking to his eldest daughter, Veronique, when the young man, who had been drinking with friends, got into a parked car. The young man started the car. He meant to go forward but the car lurched backwards and knocked Langford off the pavement and under the vehicle. The young man accelerated and Langford realised that his best hope of survival was to cling to the car's exhaust pipe. The hot exhaust burnt his hands but he knew that if he let go he risked being run over. Bystanders ran after the car shouting to alert the driver that a man was trapped beneath his vehicle. But the man reversed for about 50 m, then drove forwards, then reversed again before he saw the shouting people and stopped the car.
After an hour's wait for an ambulance, the battered and bloody Langford reached hospital where he was stitched and discharged that evening. By the time he got home he could not walk and the next morning he suffered a stroke. A doctor who saw him at hospital later that day said he would never walk again.
Langford said he was far away from God at that time. He had grown up in a Christian home but he had turned his back on God and cut himself off from his family. His evangelist brother, Mervin Langford, visited him and encouraged him to seek God. He said, in retrospect, his heart must have started to soften towards the Lord, because he began to sense a voice telling him his life was not over. But after two years doctors confirmed their prognosis that he would never walk again and he continued to harbour a desire to exact revenge on the young man responsible for his misfortune. He resolved to recover his strength and decided that the day that he could walk again he would repay the young man.
Langford began to push on the arms of the chair in which he spent most of his time, trying to lift himself a bit. He kept this up daily and by the grace of God, he said he managed to lift himself slightly one day. He kept on pushing and lifting and the day came when he stood up. Then one day he took his first step and fell over. But he persevered and graduated to two steps, then three steps. Like a baby he started to learn to walk again. Then he said, the devil began to talk to him, saying it was time to go and find the young man.
Turning point
He put a big knife in his pocket and went out to look for the young man. The fingers of one of his hands were still locked in a clench, and one of his legs was still partly paralysed and dragged as he walked. As he stepped into an alley next to his house he saw the young man was also in the alley, walking towards him. Langford is convinced that God set up the appointment. At the time he thought "I have you now!". But he said that as he reached for the knife with which he planned to kill the young man "the most wonderful thing happened — something that I had not experienced in 53 years of life — God came between the two of us and I felt in my heart 'No man, leave this young man' ".
He was surprised to find himself inviting the young man to come and talk to him at his house.
"The Lord took away my desire for revenge and there was peace in my heart. I spoke gently to him [the young man].But he didn't trust me because he knew me and thought I was leading him into a trap where I would harm him."
But the two men ended up talking in Langford's yard. The older man asked the younger what really happened on the day of the accident. The young man said he didn't know himself but he asked for forgiveness.
"I forgave him and told him to visit me again to chat some more.It felt strange because until then I did not know what it was like to forgive somebody."
Langford shared his experience with his wife and began attending church. Around that time God blessed them with a house in a better area called Chatty 11. He said he had been waiting for this house for 12 years.
He said in the new, quiet neighbourhood, he was able to do a lot of thinking about his life. His wife became friends with a local young woman, Chantelle Seraat, who visited them daily and always had words of encouragement for him.
God encounter
"The daily encouragement moved me so much that I started to learn to get on my knees and to pray and to read the Word of God. And as I began to learn to read the Word and to pray I encountered God personally. It was so wonderful for me who had never known God. If anyone had spoken to me about the Bible before I would have turned away but God has revealed so many wonderful things to me in His Word."
Langford's newfound peace with God was tested again more recently. By this time the young man and Langford's daughter were in a relationship and had a baby that they were bringing up in his house in Salt Lake. He was supporting the couple's child. "That's how forgiveness works," he said. Then one night three months ago he got a phone call with the news that his daughter was in hospital after being run over by the young man. He had done it again!
"We went and visited her [his daughter] in hospital. Thank God no bones were broken. She was just bruised," he said.
He said she was not able to tell him how the accident happened. But the next day the young man visited him.
"He stood before me drunk. I realised the enemy was trying to throw things at me and it was like a test of whether I had really forgiven the young man at all. Well, I just sat back and said to him 'I leave you in God's hands'. I am very aware of all the bad things I have done that God has forgiven. My advice to everybody is to keep your eyes on the Lord and watch out for the devil — he doesn't like good things, all he wants to do is to bring destruction."
Langford who looks fit and has regained full use of his arms and legs, is enthusiastic about his relationship with God. He was baptised on December 1 and he now leads a group of five people who are 'serving the Lord' in his neighbourhood. They visit homes in the area, offering prayer, and they hold services on Tuesday and Thursday evenings. He also attends a church in Arcadia.
"I am so grateful for the wonderful things God has done and I can say there is nothing better than to serve the Lord," he says.