[notice]A story in two parts of God's relentless pursuit and guidance of one of His sons. Read Part 2 [/notice]
Darkness to light
Over the past year J P Flugel has experienced God using others to humble him, heal old heart wounds, radically expand his ministry vision — and confirm that he was born for sports ministry.
Youth pastor at Bluewater Bay Community Church Port Elizabeth for the past eight years, Flugel has come a long way from the rejected boy whose father walked out on his teenage wife when he was an infant — from the day he turned his back on rugby when the school first team coach called him "a waste of oxygen" — from years as a drug dealing gangster — from encounters with God's love followed by relapses — from a persistent rebellious attitude towards father figures….
Click on banner to register
"I still get emotional about God's amazing grace and mercy," he said as he recounted one of the occasions in his life when he experienced God pursuing him — calling him back — despite his waywardness.
For years his mother, a believer, took him to church and he attended Sunday school. But during his teen years the churchgoing stopped. However, towards the end of his school years he started going to church again — just to get out of the house. By that time he was rebelling against his strict stepdad and church was one of the few places he was allowed to go.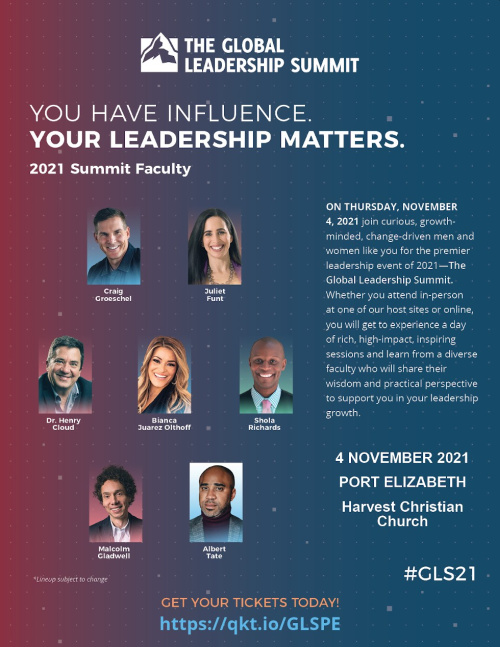 God encounter
He used to sit in the back of the church, to the side, so that nobody would see him. But God saw him and one night he responded powerfully to a testimony and received prayer ministry after the service. He remembers lying on the floor and then getting up with a conviction that God had come into his heart. He joined a youth group but he did not connect with anybody who could help him with his emotional issues. He left the group after matric, moved out of home to stay with his grandfather, and began partying and drinking heavily.
Within a few years he had dropped out of college, where he had started smoking dagga, graduated to harder drugs, and started stealing from his work and others to buy drugs. His life spiralled further out of control as he became a member of a notorious East London drug syndicate.
Amazingly, he said, during that time God even used unbelievers to protect him when other gang members wanted to kill him, and He also used a gracious branch manager to offer him a reprieve — provided he got his life in order. With the intervention of an aunt he went to drug counselling and then — just because of the nagging of family members — he signed up for an Alpha course at his old church, St Albans Anglican Church.
Another chance
Against his expectations he came to enjoy the course, recommitted his life to God and joined a cell group after the course. But he still had a drinking problem and messed up with drugs again. But this time there was an "amazing lady" in the church who walked with him through this troubled period and facilitated a session of deliverance prayer which he said brought him a degree of freedom.
But after a girlfriend broke their three-year relationship he relapsed and began drinking heavily and taking drugs again.
In 2006 he transferred to the Port Elizabeth branch of his work with the aim of earning lots of money. On arriving in PE he passed the Bluewater Bay Community Church where he sensed the Holy Spirit say: "You will work at that church."
"I thought that [the idea of working at that church] was crazy because me working in the ministry was ridiculous. I started to party a lot, new scene new clubs, doing my thing. But I felt God saying to me: 'What are you doing? Where are you going with your life? I did not bring you to PE for you to go back into your slump life'."
God kept telling him to go to Bluewater Bay Community Church. So, one day he decided to go.
"I had used drugs the night before and I went into this church. Not a single person greeted me, it was cold and I didn't feel that it was right. I walked out thinking 'No, this is not it.'
God's persistence
"I left it [the church] and carried on partying but God said to me again: 'I want you to go back there [to the church], I have a plan for you.' "
Flugel relented and attended a service at the church but afterwards felt it was not for him. He went back to partying a lot, and again he sensed God saying He wanted him to go back to that church.
One day as he drove past the church on his way back from work he saw a board advertising an Alpha course.
"I knew then that the Lord was shouting loudly and I remember that Tuesday struggling the whole day with not wanting to go. I just thought to myself that I wasn't going to do this thing, it's a waste of time. Tuesday night came and I just felt the Holy Spirit saying that He wanted me to go and I remember walking in and the first people that I saw were friends of mine from East London that had also moved up. It was quite something, they didn't stay long — maybe a year or two before they moved back — and I almost think that God had used them as some way to draw me in."
He joined the course where he got involved with a group of young people and felt God calling him back and "re-igniting a fire inside" of him.
What! Me lead a cell group?
After the course, the youth pastor, Rory Marais, suggested they should start a cell group and asked who would like to lead it. Everybody kept silent but a young girl piped up and said: "JP I really think you should lead it."
JP thought the idea of him leading a group was ridiculous. He didn't know any bible verses other than John 3:16. But the youth pastor said he would help him get started.
He began "an amazing trip" of running a cell group. To make up for his lack of bible knowledge he relied heavily on Christian DVDs. During this time he had a rocky relationship with the senior pastor, Erik Momsen — "I think it was any male figure who came as a father that I was ready to fight with. And it was counsellors who started to deal with me. They told me that I had issues with leadership that stem out of my past. I became very isolated — it was like people stopped talking to me and God just started to deal with me in a massive way."
Recapturing passion for sport
During a series of personal encounters with the Holy Spirit he started to get to know Jesus as his saviour and God as his father. Rory Marais invited him to help with the church's youth ministry. During this time he used sport as a way of reaching out to neighbourhood youngsters — recapturing a passion for sport that had always been part of his identity but which became overshadowed in his wasted years.
As he became more involved in youth ministry he began to sense a call to dedicating his life to "God's work". Erik Momsen and some of the leaders in the church started to recognise him as a young leader and began to pray with him and guide him.
He spoke to Momsen several times about the possibility of coming into full time ministry in the church.
"He [Momsen] told me that unfortunately there was no salary or position for it. But the calling just got stronger and I got to a place where I felt that I just needed to give it [his secular job] all up. At this stage I was earning a big salary and medical aid. I was climbing the corporate ladder, all those opportunities were there but my heart wasn't in it. My heart was to be amongst youth and in the ministry.
"I had contacted my mom and asked her to pray because I really felt that I just wanted to give it all up and go into ministry. Even if there was no salary I felt that God would provide for me. My mom, even though she was a strong believer, didn't understand. She thought I was crazy because I was earning a good salary and I could do both — work and minister at the same time."
He listened to his mother's advice at first but he continued to feel a strong heart pull towards full time church ministry.
The day he took the plunge
"I remember that my mom and I used to have quite a few fights about this thing and the one day I was sitting outside the office at work at the beginning of 2008 — and I was sitting in my car and I said: 'Today's the day. I'm resigning, I'm going to do this thing. If I have made a mistake I believe that God is a gracious God and He will direct me again.'
"I phoned my mom from the car and told her that I was going upstairs to resign and she started shouting at me that I shouldn't do it. I just told her that she must either support me or she mustn't — either pray for me or don't because I was doing this and she said: 'Ok, I'll pray for you.' "
When he told his employer he was resigning to go into ministry he was asked what he would do for a salary. He said he did not know but believed God would provide. His employer got up and shook hands with him, saying he had goose bumps and couldn't believe he was doing such a thing. Two or three days later his company said that although it was the beginning of the month he could leave immediately and they would pay him for the full month.
"I arrived that morning at the church and Pastor Erik was outside and I told him that I had resigned and that I was there to serve. He was a little nervous and he just asked me what I was going to do about a salary because the church couldn't pay me a salary.
"I said: 'Look I don't know what God has planned but I believe that he is going to sort everything out.' "
What about a salary?
He then went to the family home of his girlfriend at that time, and she and her parents were supportive of his decision but were concerned about how he was going to get a salary.
"And even in the back of my mind I was stressing out a little bit. I had rent to pay and I had just bought a new car and still had to pay it off."
That same afternoon, while he was still at his girlfriend's home, Momsen phoned him and said: "You are not going to believe this." The pastor told him a parent at Bay Christian School, which is run by the church, had just phoned him asking why the school did not offer sport. He explained that they had no facilities and no salary for a sports coordinator. So the parent promptly donated money for a salary for a year for a sports coordinator and Momsen offered the job to Flugel.
The salary was only R2 000 a month but Flugel gratefully accepted it, believing it was better than nothing. And so the first full time ministry position that God opened up for him was in the field of sport — something that he can now only fully appreciate with hindsight.
A day or two later an elderly lady from the church approached him and gave him an envelope which she said somebody had left for him. It contained R5 000.
His old company ended up paying not only his full salary for the first month but also paid him his full car allowance and full medical aid.