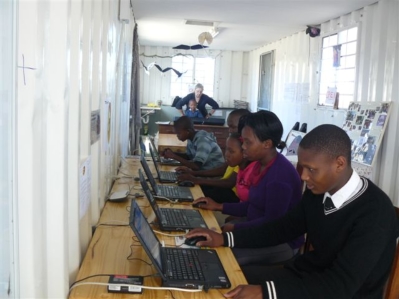 A shipping container "helpline" equipped with five laptop computers with Internet access has opened a new world of hope for residents of informal settlements in Seaview, Port Elizabeth.
High school learners as well as older people who had previously dropped out of school, were using the computers to do homework and brush up on subjects like maths and basic computer literacy, with the help of Christian volunteers who ran the helpline, said project founder, Penny Anderson.
She said the recent donation of laptop computers and Internet access, by Shaeffler South Africa and the Rainbow Nation Club, were an answer to prayer. The container resource centre was situated conveniently close to the Zweledinga and New Rest settlements as well as to people living at the Pump Station and Seaview, said Anderson.
"When you are on the path that God wants you to be on, He opens doors," said the Kini Bay resident and former physical education teacher who has been running voluntary educational projects in the area for the past decade.
"When I became a proper Christian in 2000 I decided to make my talents available to the community," she said. She began with gym coaching but over the years, with the help of other volunteers, offered lessons in further skills such as playing the guitar and keyboard, and baking.
The container was donated several years ago and was moved to its present location earlier this year. "The message on the door tells the story: Unikwa mandla nguThixo (Empowered by God)," said Anderson.
Currently she is brushing up on her maths knowledge in order to assist learners who use the container helpline. She said she was keen to facilitate further education opportunities for some local adults who, for various reasons, had not completed their schooling. She said she needed help and advice with this process in order to ensure that people were assisted in a way that would qualify them for employment opportunities. Anderson can be contacted at 041 3781207.