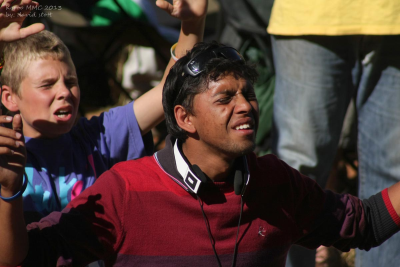 When 19-year-old Yushraq Dollie looked at a crowd of nearly
6 000 women at a Cape Town Christian conference where his Muslim mother got 'saved', he asked himself: "Where are the men?"
That was at the Hillsong Colour Conference in mid April. Little did Dollie know that God was about to take him on an extraordinary journey to the Karoo Mighty Men Conference (KMMC) at the end of April.
Dollie began to respond to Jesus seven years ago while in Grade 8 through the ministry of a group of students who visited his school weekly to share the gospel. He accepted Christ at a Christian camp in 2007 although he knew that he would face rejection by his Muslim family.
It has been a tough, yet blessed season. His family has been ravaged by marital problems, domestic abuse and crime. His sister was molested by a relative. His cousin was shot three times and lost her baby while he was writing his matric examinations. His father was stabbed nine times in Johannesburg – and survived. He was turned out of his home because of his faith in Jesus and spent years staying with the families of various friends in between stints back at home. At times he felt angry with God because of the tribulations. But Dollie, who loves to worship God while playing his guitar said worship has been a key to experiencing God's joy and grace most of the time. While staying with a friend whose father is the CEO of a national company, the whole family came to Christ and got rid of Buddah statues, crystals and books on various religions. Other people got 'saved' and transformed in homes where he stayed, in taxis he used and at a service station where he worked last year, he said.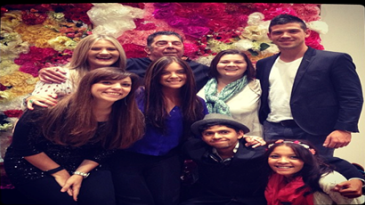 In a great breakthrough, his mother, Ferozia, who is separated from her husband, accepted Jesus at the Colour Conference last month. As he looked at all the women at the conference and listened to the message to them to shine their light for Christ, he asked God where the men were. He was conscious of men who physically and sexually abused women and children, and of his Muslim father's bitterness and rejection of him because of his faith in Jesus.
The night after the Colour Conference in mid April he had a dream about worshiping God together with thousands of men. After he had a second, similar dream, he found out about the KMMC taking place the following week and was prompted by God to register for the event and to trust Him to get him there.
He said God told him that he was raising his army in South Africa at the Mighty Men Conference.
He said that on Wednesday April 24 he registered online for the KMMC that was starting in Middelburg on Friday April 26. The next day he received encouraging phone calls from KMMC organisers responding to his online message that he was from a Muslim family and was trusting God to get him there. And early on the Friday morning he was on a bus full of men setting out on the 800km drive to Middelburg – with his trip sponsored by one of the men.
'Caused revival in my heart'
He said his experience at the KMMC was "life-changing". He said an 'Isaiah 60' call by one of the speakers, Pastor Afrika Mhlophe, for men to "arise and shine for the glory of God rises upon you" caused "revival in my heart to be the change God wants to see". Another speaker, evangelist Johnny Louw also challenged him to live his life fully for the Kingdom of God.
"I believe that the Lord is saying arise and shine mighty men of God, your time has come. We need to start standing up in our land against injustice, crime, women and child trafficking – it's time to set the captives free!"
Dollie said that at the KMMC he was blessed with tent accommodation, food and gifts of money. He also had an opportunity to share his testimony live on Radio Namakwaland and to play and sing on stage during an informal Saturday afternoon worship time with worship artist Dewald Gouws. He said that in the past week Gouws contacted him and said that he wants to record with him and wants him to sing with him at next year's KMMC. Worship artist Joe Niemand's team has also invited him to sell their promotional t-shirts in Cape Town.
"My dream is to build kingdom businesses and eradicate poverty because God wants us to be united and to change the world through Him," he said.
Dollie, who is still living an itinerant lifestyle, established a Christian t-shirt business last year. He hopes to secure a job soon in order to raise capital for the t-shirt business. Meanwhile he says God keeps blessing him with financial gifts to meet his needs.