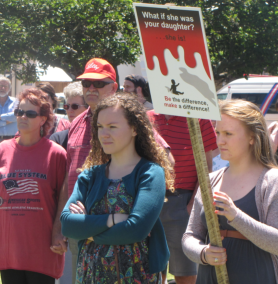 People from various parts of Nelson Mandela Metro gave an hour of their time to show solidarity with a 6-week old baby who was raped recently. Although she may never know any of the individuals who stood at the Donkin Reserve, what is clear is that all of them were drawn there by her plight and that of many who have been robbed of their innocence. Rape is a heinous crime but the rape of babies brings us to levels of sadism that are not known even in the most dysfunctional societies.
South Africa used to be the darling of the world but we have now become an international disgrace because of these types of crimes. Once-a -year campaigns like the 16 Days of Activism against women and child abuse mean nothing in a society that has been riding the wave of immorality since the dawn of democracy. In fact there are things that have been happening in this country that never took place prior to 1994.
We have killings, rapes, and corruption at levels never heard of before. It is as if we have exchanged political freedom for spiritual bondage. It seems we got free politically but enslaved spiritually. This to me sounds like a raw deal. Where do we go from here? According to Luke Watson of Southern Kings, we need to act and show compassion to those in need. His address at this gathering was frank and unflinching.
He told the estimated crowd of about 200 people that they should do more than just showing up for the Just1hour gathering. His point was that showing up at such events may help to soothe one's conscience but makes no real difference. He challenged us all not to cower in the face of what looks like an insurmountable challenge. When listening to Luke you could see why he is the captain of his rugby team. He has true leadership qualities.
Those qualities were evident in how he managed to get other Southern Kings players to come and lend their support to this event. Watson also spoke about his love for and commitment to the city of Port Elizabeth. Pastor Russel Viljoen, who was the programme director, reminded us that every action counts. He gave ideas on how we can practically contribute in changing this negative picture we currently have in front of us.
Wow, I am inspired by what I saw in this gathering. The care and concern was written on each person's face and now I pray that we see a meaningful follow through.