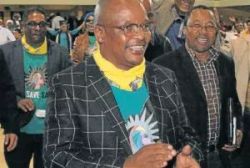 Church leaders in Nelson Mandela Bay (NMB) endorse the Save South Africa campaign and call upon local denominations, congregations and individual believers, to join the civil society movement, say a group of leaders in a statement issued on their behalf by the SA Council of Churches.
The statement coincides with a packed mass meeting at the Nangoza Jebe Hall in New Brighton on Wednesday night, where the Save SA campaign held the first of a series of regional meetings aimed at mobilising people for their call for President Zuma to go.
The NMB church leaders say that dysfunctional state institutions and corrupt leaders are hindering the country from dealing with its greatest challenges — poverty, inequality and unemployment — and that churches, led by faith in Christ, must take a stand and support SAVE SA's call for change.
The leaders who wrote to President Zuma in April, asking him to step down in the interests of the country, repeat their call for the president to resign and for elected officials to serve honourably, and for officials to put principle and good governance ahead of vested interest and self-enrichment.
The leaders' statement says: "Our constitution states: 'South Africa belongs to all who live in it, united in our diversity' — it envisages a 'democratic and open society in which government is based on the will of the people'. The aim is clear, namely, to "improve the quality of life of all citizens and free the potential of each person" and this is to be done by building 'a united and democratic South Africa able to take its rightful place as a sovereign state in the family of nations'.
"On 2 November members of civil society came together at the St Albans Cathedral in Tshwane to launch the Save South Africa movement. Its message is reflected in the words of Sipho Pityana: 'there are very few among us who would dispute that South Africa is in crisis. It's a crisis spanning the economy, society, and the political sphere. It's a crisis fueled by patronage, corruption, mismanagement, unchecked power and widespread apathy. It is a crisis that compels me to persist with my call urging every proud citizen to join the movement to save South Africa."
"As the broad Christian church of Nelson Mandela Bay we have consistently sought to engage with senior leaders within all levels of government to raise our concerns and to call for change. In April this year, we wrote to the President asking him to step aside, in the interests of our country. Since then our country has seen our Minister of Finance charged by the NPA, only for the charges to be dropped three weeks later and at great cost to our economy. We have had students mobilising for free, quality, decolonised higher education with no meaningful response from government other than ordering police to occupy our campuses – the consequence of which has been violent confrontations and a shutdown of campuses. Recently, the outgoing Public Protector released her State of Capture report, which calls for the president to appoint a judicial commission of enquiry to investigate the alleged widespread corruption. Mr Brian Molefe, CEO of Eskom, has resigned as a direct consequence of being implicated in this report.
"Our schools, our universities, our state institutions, our state-owned enterprises, our parliament, our presidency are dysfunctional. Our institutions are not working to serve the interests of ordinary, and specifically, impoverished South Africans. Instead, it appears that our country is under the control of individuals and groups whose only interest is serving their own personal gain. This is not the South Africa we want, nor the country our sacrifices have sought to build."
The statement issued by the SACC on behalf of: Bishop Lunga ka Siboto, Bishop Vincent Zungu, Bishop Bethlehem Nopece, Bishop Andile Mbete, Apostle Neville Goldman, Pastor Johannes Welskit, Ds Danie Mouton, Rev Sipho Ncapayi, Pastor Daan Botha  and Rev Howard Hans.