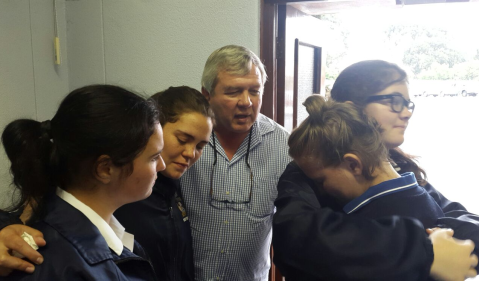 Openness of schools to Gospel overwhelms film crew
Five days into the week-long Switched On mission in Nelson Mandela Bay reports are coming back of people responding to the Gospel message that is being proclaimed in every corner of the city in the greatest evangelism outreach every undertaken in the area.
The "Switched On" team including people from many different local churches, from African Enterprise (AE), and invited speakers from around South Africa, have preached the Gospel in schools, prisons, police stations, magistrates courts, businesses, old age homes, drug rehabilitation centres, on the university campus, at lunches (rugby lunches, cricket lunches and ladies' lunches), hospitals, clinics, on street corners, in parks, at taxi ranks, at music concerts and more.
"I think the power has been in meeting people where they are at and in going out to the people… not expecting them to come to us," says AE Communications Coordinator Megan Whatley. She says there are so many stories coming in it is "quite overwhelming".
Gateway News will share more Switched On news in our next news publishing cycle in two weeks time when more detailed feedback will be available. However, it can be safely said that the openness of Nelson Mandela Bay schools to the Gospel has amazed evangelists, speakers and film crew members who have experienced mounting opposition to the Gospel at schools in other parts of the country.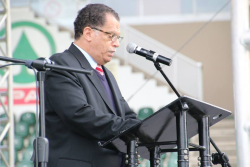 80 000 learners
One hundred schools representing approximately 80 000 learners are being visited during the mission week and everywhere the teams are visiting principals and teachers are opening their schools to the Gospel and learners — in several cases entire schools — are saying YES to Jesus.
Speaking at a team briefing this week Dieter Lubbe of Family Policy Institute's Watchmen on the Wall TV crew who are documenting the outreach said: "We went to a school with the Foxfire Team. We made an altar call and the entire school put their hands up and the entire school prayed the sinner's prayer."
He called the situation in NMB schools "a grace gift….that you can't take lightly". .
"To see a whole school pray the sinner's prayer… I mean you know that in certain American schools if you are even seen to be praying you will have legislation against you. That's the size of the fight. I just want you to appreciate what God is doing and appreciate the magnitude of it."
He said the openness in NMB schools and the unity among churches collaborating on the mission was "overwhelming and disorienting".
Trusting God for whole cities
"We don't even know how to respond to this. It's raising our expectations putting this film together! I know it's going to be infectious to the whole of Africa as we put it out onto the airways… What God is doing here is going to encourage people… That we can trust God for whole cities. That Jonah scripture… that faith has long been lost… in the back of our minds we haven't believed it. These last few days have challenged me to the core to believe God for cities."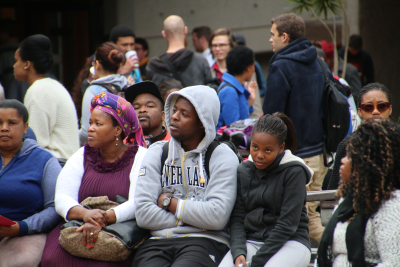 Scripture Union Regional Director Sam Otigo said after presenting the Gospel at a school he asked the principal if he could pray the sinner's prayer. On getting the go ahead he invited learners to pray in their hearts as he led them in prayer but to his amazement the whole school prayed out loud.
"God is at work. We are doing all we can with the help of God," he said.
FPI Director Errol Naidoo was also blown away by his experience at a school where he spoke to a class of 37 about the challenges such as prostitution, teen pregnancies, broken families, gangsterism, drug addiction facing young people today.
"I said that God is raising up a generation of young people who are going to bring hope and change and transformation to this nation and how transformation works in South Africa is that Parliament passes many laws but those laws don't change the hearts of people and the only way we are going to transform society is by transforming the hearts of people."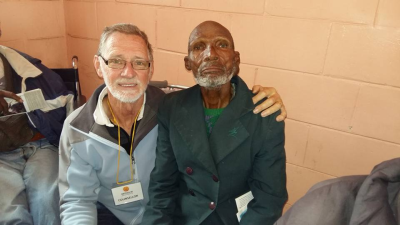 Then he invited those who wanted to be used by God to be part of that change to raise their hands.
"So every hand went up. Very excitedly. Yes, yes, yes! So I said I would tell them how to do that. That it starts by giving their lives to Jesus Christ," said Naidoo.
Then I he told the learners how God had transformed him from being a drug dealing gangster with a broken marriage to a leader of a ministry fighting for marriage and family who is used by God all over the world. He challenged them to give their lives to God.
Destiny plan of God
"Every one of them, the whole class came forward, 37 of them.  Some of them were weeping, especially the girls, and I led them in the sinners' prayer and I laid hands on every one, I prayed and imparted the destiny plan of God.  So 37 young children gave their lives to Jesus Christ," he said.
The Switched On mission week began with a moving opening festival at St George's Park Cricket Oval on Sunday (August 16) and will end with a closing festival at the same venue from 3pm to 6pm on Saturday (August 22). Christians of NMB are invited to bring their picnic blankets and baskets and turn out in numbers and to bring their friends and neighbours to the fun-filled final event. Food stalls will be open from 1pm and pre-event entertainment will start at 2pm. More information about the final festival can be found on the Switched On Facebook Page or the website www.switchedon.org,za.