[notice ]Hieride berig is van 'n spesiale uitgawe van die Oos-Kaapse NG Kerk nuusbrief, Grens-Pos, oor die verskriklike aardbewing, voortgaande na-skokke, die tsunami en ontplooiende kernkragkrisis in Japan. [notice]
Deur Danie Mouton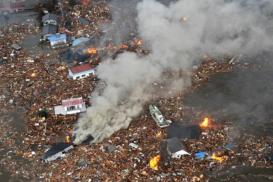 Drie gesinne met noue Oos-Kaapse bande werk as sendelinge in Japan.
Stephan en Keiko Smithdorff, met hul gesin, word deur die NG Kerk Uitenhage-Noord gestuur en werk in vennootskap met Operasie Mobilisasie (OM) in Ishikawa.
Tobie en Annelie de Wet was voorheen die leraarspaar van die RCA Calvary-gemeente in Port Elizabeth, en werk vir die afgelope 10 jaar in 'n tweede skof in Japan.  Tobie is 'n predikant van die Reformed Church in Japan.
Stéphan en Carina van der Watt, met hul kinders, word uitgestuur deur die NG Kerk Aliwal-Noord en werk in vennootskap met Missie Japan.  Net soos die De Wets, werk en woon hulle op die Shikoku-eiland.  Stéphan is 'n predikant van die Reformed Church in Japan.
Al drie gesinne is veilig, waaroor ons die Here baie dankbaar is.  Lees hieronder hoe hulle die situasie in Japan beskryf.
Inhoud
Nuus van die Smithdorffs
Stephan en Keiko (sy is 'n Japannese boorling) skryf op 13 Maart:
Dear friends,
First of all we want to thank everybody for their prayers and concern for us as a family.
We just want to inform everybody that we are all safe. We are quite far from where the earthquake strike, although we could definitely feel the trembles. Keiko's parents and family members are all safe, too.
Our hearts are broken as we watch TV and hear reports of people who are affected by the earthquake and the devastating tsunami which followed. Please continue to pray for the people of Japan; especially for those who suffer greatly in the Miyagi, Fukushima, and Iwate prefectures.
As an OM Japan team, we are meeting tomorrow morning, to pray, and discuss together what we can do. We all have a sense that we should do something, but the question is what, where, how and when… So many unanswered questions at this stage…
We will let you know of any actions we might take, and how you can pray for us further. We thank you for your emails, calls and messages. I am sure you would understand if we cannot respond to everybody at this stage, but we do appreciate each one of you.
Blessings and greetings
Stephan & Keiko
Tobie de Wet vertel…
Die son het opgekom in Japan, maar net om verskriklike verwoesting en dood bloot te lê. Onsself hier in Tokushima is nie direk geraak nie, maar ons aanskou reeds vanaf gistermiddag die angswekkende tonele op ons plaaslike TV. Ons harte is seer en treur saam met die miljoene wat geliefdes en alle eiendom verloor het, asook saam met ons broers en susters in Christus wat geraak is.
Dit was die ergste aardbewing en tsoenamie in Japan se geskiedenis! Kundiges sê dat dit nog nie die ergste is nie….Die grote moet nog kom.
Terwyl ons diep bewus is van die skade, pyn en lyding rondom ons probeer ons hier in Tokushima vandag (Saterdag) nog ook Annalie se verjaardag vier. Dit is egter met die diepe besef dat die Here ons begenadig om ons roeping ook in hierdie land te vervul.
In ons eie stiltetyd het die Gees vanoggend duidelik met ons persoonlik gepraat. Aardbewings, tsoenamies, hongersnood, oorloeë is alles tekens van die tye. Die einde van die aarde soos ons dit ken is op pad. Die wederkoms van Jesus Christus ons Verlosser-Koning is voor die deur. Maar soos Matteus 24:14 duidelik sê: Dis sendingtyd!! "Die evangelie van hierdie Koninkryk sal verkondig word in die hele wêreld tot 'n getuienis van al die nasies, en dan sal die einde kom…"
Dis GENADE-tyd: "Die Here vertraag nie die belofte soos sommige dit vertraging ag nie, maar Hy is lankmoedig oor ons en wil nie dat sommige verlore gaan nie maar almal tot bekering kom (2 Petrus 3:9)."
In Japan is 99% van die totale bevolking nog sonder Christus, sonder God en sonder hoop…Mag hierdie verskriklike traumatiese gebeure diep spreek tot die miljoene van Japan om nie ons huise op sand te bou nie maar op Die ROTS. Mag dit opnuut 'n oproep wees vir die kerk en sendelinge om ons roeping met nog groter erns en ywer uit te lewe.
Gebedsitems
1)    Dankbaar dat ons self veilig en ongeskonde is.
2)    Bid vir ons broers en susters en kollegas in die geaffekteerde gebiede.
3)    Bid vir die miljoene mense, veral in daardie gebiede maar ook oor die res van Japan, wat diep geraak is deur dood en verwoesting.
4)    Bid vir soveel wat geliefdes verloor het.
5)    Bid vir geestelik-emosionele heling.
6)    Bid vir fisiese hulp vir mense wat beseer is en alles verloor het.
7)    Bid vir die opbou van 'n groot deel van die land en wat baie jare gaan neem.
8)    Bid vir die rol en taak van die kerk.
9)    Bid vir die evangelisering van Japan en die belangrike rol wat ook die kerk in SA in die verband speel.
Stéphan van der Watt skryf…
Baie dankie vir almal wat meeleef met en bid vir die gebeure in Japan. Elkeen se e-pos en oproep word waardeer, al is dit nou nie moontlik om dadelik weer op alles te reageer nie. Behalwe op dringede versoeke/navrae natuurlik…
Wanneer 'n ramp soos hierdie miljoene mense tegelyk tref is daar nie woorde wat dit kan beskryf nie.  Ons is saam met ons broers en susters in Japan stomgeslaan. Maar ons glo hierdie krisis is 'n geleentheid – veral vir die handjievol Christene (1%) in Japan – om op baie praktiese maniere die evangelie van Jesus Christus se hoop te deel. Sodat baie mense opnuut kan besef dat: al is hulle op die grond neergegooi, hulle nie vernietig is nie. (2 Kor. 4:9)
Bemoediging aan die Reformed Church in Japan
Dr Gideon van der Watt, sekretaris van Missie Japan, het die volgende bemoedigende skrywe aan die Reformed church in Japan gerig:
Dear Makita sensei and other brothers and sisters of the Reformed Church in Japan,
It was good to briefly speak to you. We are so grateful that Shikoku and the RCJ congregations escaped the worst danger and damages. We are so relieved that you and our missionaries are fine. We see the dramatic pictures on TV. We cannot image the fear, shock and trauma – how anxious most people would be. Especially at the worst hit places – Sendai, etc. We trust that our friends in Tokyo are also safe.
I have had some contact with dr. Kobus Gerber, General Secretary of the Dutch Reformed Church. On behalf of our church, himself (he is currently overseas), but also on behalf of the other sister churches, especially the RCA, as well as Mission Japan, we want to assure you of our prayers. We are deeply touched by what is happening in Japan. Your all became so close to us – our brothers and sisters! We share your pain. We really pray that our Lord will protect you and be with you all, that He will give you strength and comfort. We pray for our missionaries. We will ask as many as possible of our congregations to pray on Sunday for the people of Japan, the RCJ and for our missionaries.
If there is anything we can do to help, please tell us.
May God, the God of Psalm 46 be with you:
"God is our refuge and strength, an ever present help in trouble.
Therefore we will not fear, though the earth give way and the mountains fall into the heart of the sea,
though its waters roar and foam and the mountains quake with their surging…
There is a river whose streams
make glad the city of God, the holy place
Where the Most High dwells
God is within her, she will not fall;
God will help her at break of day… "
In Christ our Lord,
Gideon
Finansiële steun vir die Reformed Church in Japan
Dr Gideon van der Watt van Missie Japan skryf as volg oor 'n geleentheid om via Missie Japan die Reformed Church Japan se hande te sterk om finansiële en ander bystand te lewer:
Liewe Missie Japan medewerkers,
Soos wat ons almal die gebeure na die aardbewing en tsoenami in Japan op televisie volg, kan ons nie anders as om met skok en ongeloof na die verskriklike gevolge daarvan te kyk nie. Die naskokke en die vrees vir wat kan gebeur as van die kernkragsentrales ontplof, gryp mens aan. Soveel mense se lewens word intens daardeur geraak.
Die aardskudding en die gevolge daarvan het inderdaad die as waarom die aardbol draai, die aardbol wat ons met mekaar deel, meetbaar geskuif. En dit alles word in ons binnekamers ingedra. Ons kan daardeur nie onaangeraak bly nie.
Ons harte gaan uit na die mense van Japan, veral ook na die broeders en susters in die Reformed Church in Japan – ons susterkerk waarmee ons so nou saamwerk. Ons is dankbaar dat ons sendelinge daar en al die ander bekendes veilig en ongeskonde is.
Met die RCJ Gemeentes in die gebiede wat die swaarste getref is, byvoorbeeld in Sendai, kon egter nog geen kontak gemaak word nie. Ons kan net dink dat hierdie gebeure die RCJ baie diep raak. Al is hulle ook klein in getalle, sal die  RCJ natuurlik ook 'n bydrae wil maak om daar die nood te help verlig en so 'n Christelike getuienis te lewer.
Miskien sal dit goed wees as ons hulle hiermee kan help – al is dit dat ook net met 'n simboliese gebaar.
Missie Japan se Dagbestuur het daarom besluit om vir u as ons medewerkers 'n geleentheid te bied om ook 'n finansiële bydrae te maak, as u so gelei word.
U kan 'n bydrae aanstuur of elektronies oorplaas in Missie Japan se rekening. U moet dit net duidelik merk: Japan Rampfonds. Ons sal dan al hierdie geld oorbetaal aan die Reformed Church in Japan wat dit na goeddunke in hulle betrokkenheid by die ramp kan aanwend.
Ons versoek u egter om regtig te bly bid, vir:
–  Die slagoffers van die ramp – die beseerdes, hulle wat alles verloor het, ook hulle geliefdes
–  Vir die owerhede in Japan wat alles moet hanteer – ook die dreigende sekondêre rampe
–  Vir die RCJ en ons sendelinge wat juis in hierdie tyd geroep is om daar 'n getuienis van Christus se liefde uit te dra.
–  Kom ons bid ook dat die Here ons almal – die hele wêreld  waarvoor Hy so lief is en homself voor geoffer het, in sy liefde en genade sal vashou.
–  Kom ons sê vir die Here dankie vir die teken van die reënboog – die verbondsteken wat ons herinner aan en troos met God se beloftes dat Hy ons en die aarde waarop ons woon in sy hande vashou.
Missie Japan se bankbesonderhede is:
Rekening naam:    Missie Japan
Bank:                 ABSA
Takkode             632005
Rekening nr:        4049690248
Missie Japan adres:
Missie Japan
Posbus 1399
Bloemfontein, 9300
Tel:+27 51 406 6729
Faks: +27 51 447 2145
E-pos: getuienis@ngkerkovs.co.za