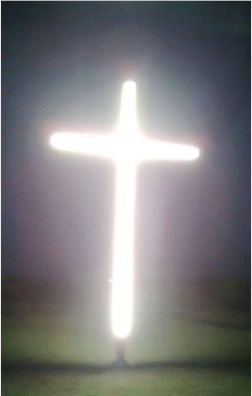 In February this year we published a story about a Cape Town man who smoked and drank heavily who reluctantly accepted an invitation to attend the 2013 Karoo Mighty Men Conference where he was radically transformed by God's love. 
And so my curiosity was aroused at the Western Cape Mighty Men Conference in Malmesbury at the end of last month when I heard that same man, Justin Strydom, sharing his Karoo testimony from the stage and singing a Scripture-inspired song that he had written. I also heard that he had made the 9m wooden cross standing on the site.
I spoke to him and learned that after reading about the upcoming MMC Western Cape in Gateway News he contacted committee members Ina and Piperjames McGowan and said he would like to get involved. They asked him what he could do and he said he was a carpenter by trade. They said they had a job for him — he could build the cross for the site.
"I said, wow, that will be an absolute honour and what do you want, and so discussions started from there."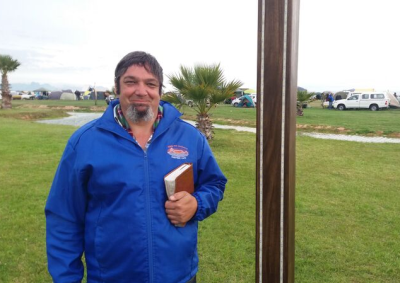 Justin says he decided he wanted to design the cross "in a way that light was not shining onto it but shining out of it — because our light comes from Jesus Christ who died on the cross for us." He decided to use LED lights and began searching for the right kind of LEDs.
"God blessed us incredibly; the timber, lights and all the transformers were sponsored and my labour was at no cost," he said.
The cross filled up the 45 sqm double garage where he works. He had to place it diagonally so that he could close the door. And every time he turned it around he first had to lift it off its trestles and carry it into the street. This went on for two and a half weeks.
"It was quite a process but fun. The amount of reflection I did in that time was mind-blowing. The thoughts I had pondering the meaning of the cross were phenomenal. I came out a changed man just from that."
He said the song he sang on the MMC WC stage was based on Isaiah 40. He wrote the words and a friend, Hope Cornelissen, composed the melody.
Long before he was saved he used to accompany his believing wife, Anneri, to church in KwaZulu-Natal. At the time somebody told him he had a great voice and should join the worship team, which he did "purely for my own glorification".
After he was saved in the Karoo he decided to attend a worship group practice at his Cape Town church — to glorify God. When somebody said he had a beautiful voice he almost abandoned his plan to join the worship team. But in a quiet time during a period he was working through a daily devotional book by Angus Buchan he read Psalm 32 which mentions being surrounded by songs of deliverance — and he decided to join the worship team.
Justin's transformation from the angry, bitter, addicted young man who went to the Karoo in 2013 seems to be continuing at a pace. He went on a mission trip to Rooiwal, Namibia in May and is joining an outreach to deliver Bibles to Syrian refugees in Istanbul at the end of this month. He has completed two theological short courses and is busy with another. He heard and obeyed an instruction from God to get rid of his DSTV "in front of which I would waste hours watching programmes". His cell group leader, a retired pastor, told him there is a call on his life and that he should search himself and the Bible. Over a period of two weeks of fasting he believed God told him to "prepare and study". And he plans to emabark on a 3 year degree licentiate in theology through the Bible Institute.