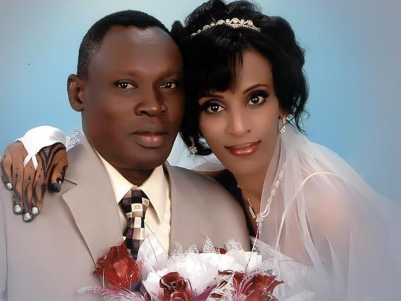 Originally published in Fox News
The pregnant Sudanese woman who was sentenced to death for refusing to renounce her Christian faith has been spending her days shackled in prison, according to her husband.
Meriam Ibrahim, 27, who is eight months pregnant, was sentenced to death last Thursday after being convicted of apostasy. The court in Khartoum delayed carrying out the ruling until Ibrahim gives birth and nurses her newborn.
In the interim, she has been spending her days bound with shackles on her legs according to her husband, U.S. citizen Daniel Wani, a Christian, who was able to visit his wife for the first time on Monday.
"He originally was not allowed to see her until this week," Tina Ramirez, executive director of Hardwired, a U.S.-based advocacy group against religious persecution, told FoxNews.com. "Once he was able to, she was shackled and her legs were swollen."
Ramirez added that Ibrahim's attorney is working on an appeal as international outrage over her persecution grows.
In addition, a statement from several attorneys associated with the Sudanese high court was released Monday, calling for an appeal of Ibrahim's death sentence.
"The [Sudanese] government is afraid of the international attention," Ramirez said. "They are paying attention and this [statement] is a sign of that."
Ibrahim and Wani were married in a formal ceremony in 2011 and have an 18-month-old son, Martin, who is with her in jail. The couple operates several businesses, including a farm, south of Khartoum, the country's capital.
Wani fled to the United States as a child to escape the civil war in southern Sudan, but later returned. He is not permitted to have custody of his son because the boy is considered Muslim and cannot be raised by a Christian man.
Ibrahim's case first came to the attention of authorities in August, after members of her father's family complained that she was born a Muslim but married a Christian man. The relatives claimed her birth name was "Afdal" before she changed it to Meriam and produced a document that indicated she was given a Muslim name at birth. Her attorney has alleged the document was a fake.
Ibrahim was initially charged with having illegitimate sex last year, but she remained free pending trial. She was later charged with apostasy and jailed in February after she declared in court that Christianity was the only religion she knew.
"I was never a Muslim," she told the Sudanese high court. "I was raised a Christian from the start."
Sudan's penal code criminalizes the conversion of Muslims to other religions, which is punishable by death. Muslim women in Sudan are further prohibited from marrying non-Muslims, although Muslim men are permitted to marry outside their faith. Children, by law, must follow their father's religion.