His death was expected but the world's reaction to it caught many of us by surprise. The measure of the person former President Nelson Mandela was has become clear even to those who consider themselves to be apolitical. Since his passing at 20h50 last week Thursday the name Nelson Mandela has been making headlines around the world and it looks like the status quo will remain until he is buried this coming Sunday.
In his memorial service on Tuesday over 90 world leaders were present, including the President of the United States of America, Barrack Obama who, in his eulogy, referred to Mandela as "the last great liberator of the 20th century." Not only was Mandela a liberator but he was also a reconciler as was seen with Obama shaking the hand of Raul Castro, the brother of the former Cuban leader Fidel Castro, a long time nemesis of America.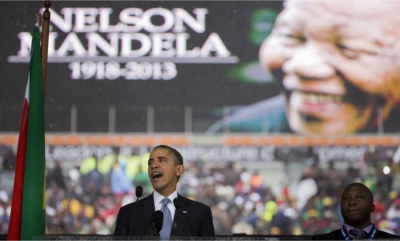 Thousands of people braved the rain to attend the memorial service at FNB Soccer Stadium and many millions around the world followed it on different media platforms. From Wednesday (December 11) until Friday, Mandela's body is lying in state for those who would want to view it and all of these activities form part of a 10-day mourning period where South Africans are expected to reminisce on the legacy of their first democratically elected president.
Mandela's legacy, however, is a contested legacy. There are those who argue that the adulation Mandela is receiving is undeserved. They cite what they consider to be blemishes and contradictions in his past to argue that Mandela was not the person that the world makes him to be. He was not a man of peace but a terrorist and a radical communist, some argue. They refer to Mandela's forming of Umkhonto we Sizwe (MK), the ANC's military wing to give credence to their claims.
"Mandela's personal failures are an issue between him and God but I believe we are better off as a nation because of this imperfect man."
Indeed he supported the decision to engage in armed struggle but it is important to also mention the context surrounding that decision. The ANC adopted the option of an armed struggle in the early 60s and yet as the oldest liberation movement in Africa it was formed in 1912. This means for almost 50 years they engaged in peaceful resistance which included marches, protests, strikes, etc. which in many cases were met with merciless violence by the apartheid regime.
A case in point is the Sharpville massacre that saw 69 protesters killed by apartheid police. I found a brilliant article written by a man who calls himself Oom Rugby that helps deal with this issue of Mandela being a terrorist. It is available at https://medium.com/p/dc527e92b0f0. Anyway something else that has earned Mandela critics is the fact that some Christians consider him to be someone who has not lived up to the standard of the Bible.
He is twice divorced and supported abortion and homosexuality, amongst other things. Some Christians have been speculating about Mandela's eternal destiny but a controversial church in America has concluded that Mandela has done enough to merit spending eternity in hell. According to a report in Times Live Westboro Baptist Church has posted a video on their website entitled 'Thank God for killing Nelson Mandela' wherein they state their reasons for believing Mandela is now burning in hell.
This now brings me to a question. Should Mandela be judged on Christian standards or should he be measured up against other leaders who have occupied the political sphere? Although he grew up a Methodist, Mandela never pretended to be a committed Christian but was in all fairness, a humanist. He had a humanistic worldview but God still used him as He did King Cyrus and this points to God's sovereignty and not to the infallibility of Madiba, as he is affectionately known. 
Recently someone argued vehemently with me on Facebook that Mandela was indeed a terrorist who committed many atrocities and killings against both black and white people. When proof was demanded the man got angry and used an expletive while at the time imploring us to ask the Holy Spirit to reveal things to us. Yes, he mentioned the Holy Spirit and used an expletive in the same post and herein lies the problem with Christians.
We often contradict ourselves and act in ways that are below the level of the very people we are busy castigating. Some amongst us are not as conciliatory and selfless as Mandela was and this is why we are obsessing about things he supposedly did 50 years ago instead of what he did in the latter part of his life. Mandela's personal failures are an issue between him and God but I believe we are better off as a nation because of this imperfect man.
I believe we should be honest in assessing his legacy and mourn him gracefully. We should not idolise him as some are now doing. He was an imperfect man who was used by a perfect God. This is how I understand Tata Nelson Mandela.