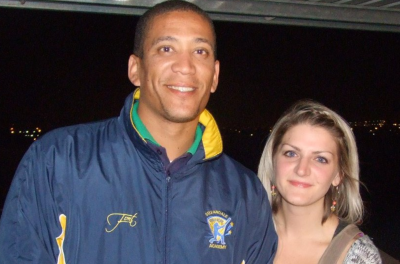 A Fighting Chance (AFC), a young ministry that tackles the scourge of drugs, gangs and human trafficking in Nelson Mandela Bay, is hosting a drug dependence Seminar at the Clubhouse at St Thomas High School, Gelvandale, on Saturday, November 30.
"It will be our first event and will answer the questions being asked by drug users as well as mothers, other family members and friends who want to help somebody who has a problem with drugs," says former professional cricketer and former tik addict, Reeze Telling, who co-founded AFC with his fiancé La Derrah earlier this year.
Telling, who was delivered from drugs after he accepted Christ into his life while at a drug rehabilitation centre in Cape Town in 2011, said that the drug problem in the Northern Areas of Port Elizabeth is critical but those affected often do not know what they can do about the problem or where and how to get help. At the seminar a panel of experts including a representative of the Department of Social Development, a hospital nurse involved in drug detoxification, a psychiatrist, and a police officer with experience of gang activities, will brief delegates and answer their questions. Delegates will also view a documentary film on tik and will take home flyers from a number of organisations involved in different aspects of drug rehabilitation.
The 'Breaking The Cycle' drug dependance seminar will be from 10am to 1pm on November 30 and costs R30. More information can be obtained from Steven Davids, a social worker and AFC team member, at 079 346 2196.
Currently Telling, Derrah and Davids provide a free lay counseling and referral service from an office in Bethelsdorp Extension 21. News of Telling's dramatic recovery from a seemingly hopeless addiction to tik has reached many people in the Northern Areas where many teenagers and pre-teens are using drugs including dagga that has been laced with tik to make it more addictive. The hope inspired by Telling's testimony assures that there is a keen demand for the AFC team members' help but they need a more central location and more space to meet the need more effectively, said Derrah. The small seminar fee will contribute to realising their vision of establishing a new, centrally situated resource centre, she said.
She said AFC recognises that there are a number of groups in the region who focus on drug awareness but there is a gap in the area of providing a service. They aim to fill that gap by providing a first-point-of-contact prayer and lay counseling service and by referring people to the appropriate professionals and institutions.
As far as possible their vision is to keep their services free, she said. After launching a resource centre their next goal is to establish a
rehabilitation centre — preferably one catering for female victims of human trafficking. Thereafter they hope to establish a post-rehabilitation support centre where recovered addicts can live for a while as they adapt to going out to work and sober living. Many people got off drugs at rehabilitation centres but relapsed after returning to their old environements, said Derrah.
She said she fell in love with South Africa during an eight months mission trip in 2008/2009. She visited the country again on a holiday and a year-and-a-half ago she moved to Port Elizabeth with a vision to start an anti-human trafficking project. She met Telling during this period and they are getting married in late December.
She said her family in Canada are strong Christians and support her dreams. Her father has been a spiritual adviser to the young couple during this season.
"They [her family] will be coming out for the wedding. It will be their first time in South Africa. I am excited for them to see the country I fell in love with and what we are doing."